Sonicflood's Revolving Door Continues with "This Generation"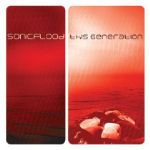 Artist:  Sonicflood
Title:  "This Generation"
Label:  INO
Even since Sonicflood's earliest days, there always seems to have been an ongoing lineup shift.
The revolving door continues with "This Generation" as band-leader Rick Heil returns with a new supporting cast. Yet, no matter the stage of Sonicflood's career, the group has always been synonymous with modern worship, a tradition that remains with this newest release.
The project picks up where the radio-friendly "Cry Holy" left off, though thankfulness radiates as the key theme since Heil's recently been restored to good health. Anyone who's seen the group in concert can attest to the singer's testimony of living with Crohn's disease; but, since last spring, he's been miraculously clear of the symptoms. And it's this sense of renewal that permeates his delivery on punchy worship poppers such as "Never Forget You" and "This Generation," which also carry over into power ballads "Everlasting" and "God Is Here" (sure to find dual footing in churches and on the airwaves).
Despite the refreshed aura surrounding this presentation, the songwriting is still steeped in the occasional cliché ("More Than Anything"), and deep spiritual topics are sometimes displayed in overly simplistic terms ("You Are"). That's not to say that such lines aren't coming from a sincere place; it's just that a bit more effort and ingenuity would've matched the otherwise consistent output. Still, these ministry-minded hitmakers deliver a 10-track set fans will most likely savor and, at least from an encouragement perspective, probably attract some new Flood followers.

© 2005 CCM Magazine.  All rights reserved.  Used with permission.  Click here to subscribe.