Smith Redefines Worship in Sovereign
Ed Cardinal

Crosswalk.com Contributing Writer

2014

27 May

COMMENTS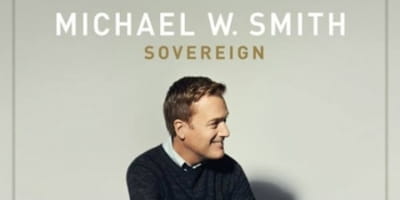 Artist: Michael W. Smith
Title: Sovereign
Label: MWS Group/Sparrow Records

After more than thirty years and twenty albums that have covered everything from pop and praise to Christmas and cinematic scoring, it's tempting to only glance, half aware, at the latest Michael W. Smith recording. But don't make that mistake. Keep up, because Sovereign is praise that pops, an exceptional studio project of well-written and arranged songs to couple with 2001's redefining live Worship. On his first set with Sparrow Records, Smith shakes some things up creatively, and we enjoy stirring results.

New to the process is working with younger producers Christopher Stevens (Carrie Underwood, Sanctus Real) and Seth Moseley (The Digital Age). Their sonic energy and Smith's wise grasp of what each track needs establish a can't-miss template. "You Won't Let Go," a rising rock anthem with lots of breathing room, churns as steadily as its words: My heart remains sure in the wind, sure in the waves. "Heaven Come Down" proves Michael, 56, still has a bold voice strong enough to sing of breaking strongholds.

There's even a radio-friendliness at play that never seems forced or age inappropriate. Proclaiming a rebel heart, "Miracle" rides in on Relient K-like guitars, interpolates "Amazing Grace," and manages to sound altogether fresh; one of many selections here deserving instant replay. "Sky Spills Over" is another big standout, a poetic take on praise music with a modern twist co-written by Smith's son, Ryan. Its catchy acoustic stomp and sing-along breakdown compare to recent hit maker Avicii ("Hey Brother").

For anyone desiring more obvious corporate worship choices, Sovereign generously delivers. "All Arise" may be predictable, but it soars nonetheless celebrating a God whose love alone overwhelms the grave. More memorable is "Christ Be All Around Me," a simple, hummable prayer for the Divine's constant presence that churchgoers are bound to be singing soon; it's just that good. With a soothing melody, "Sovereign Over Us" shows faith in hard times: Your plans are still to prosper. You have not forgotten us.

Smith saves the best for last. "The One that Really Matters," a seven-minute duet with Kari Jobe, could go on another seven minutes without any complaint. Their voices pair perfectly in a quiet meditation that gives way to a rocking, spine-tingling coda: I can't help but scream about the way that You moved in. Chaotic love has messed me up so I could live again. You'll want to hear Sovereign again and again.
*Published 5/27/2014