"Stacie Orrico" - Music Review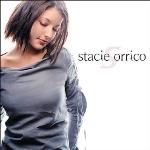 Artist:   Stacie Orrico
Label:   Virgin/ForeFront Records
What's happened to today's young pop stars? A red-nosed Britney plasters the tabloids, Christina goes NC-17, and Nick Carter helps his fellow Backstreet Boys sue their label for letting him release a solo album (if you've heard it, you understand why). Pop music clearly needs fresh young talent, and the Mouseketeer well is already over-tapped. 
Enter Stacie Orrico, a singer barely old enough to drive but sporting the type of voice that could stop traffic. Her Forefront Records debut, "Genuine," already reached gold sales certification when the singer prepared to drop her follow-up, "Say It Again". Virgin Records - a label surely in need of some fresh glitter - stepped in, signed her up, and reworked her new album with all the pop muscle the Spice Girls once helped the label tone.
Finally finished, the new self-titled album was thankfully not renamed "Say It Again" as six of the twelve songs come from the original, including "Tight," "Hesitation," and "That's What Love's About." For the six new songs, though, the label brought in the heavy-hitters like Dallas Austin (Pink, TLC), the Underdogs (Tyrese) and Matt Serletic (Santana, Aerosmith). The Seattle-born, Denver-raised singer retains her bouncy R&B-edge, but the "hit" level is powered up by the FM pop playbook as evidenced by the lead single-video for "Stuck" cracking the "TRL" Top 10.
Setting her apart, Stacie's style of pop falls closer to Blu Cantrell than Britney Spears as the production favors a more soulful vibe than the popular "Neptunes sound." Though the quality reflects her new mainstream parent label, the lyrical backbone still echoes her strong spiritual background. The new Stacie-penned "Strong Enough" perfectly mirrors this when she sings, "Is He not strong enough, Is He not pure enough, to break me, pour me out and start again."
Stacie's self-titled has the songs, the voice, the heart, and a vibrant new energy. Without a doubt, both Christian and mainstream fans will find common ground in this refreshing pop voice.

Click here to subscribe to CCM Magazine.