Starfield Crosses Worship and Pop, Faith and Doubt in Saving One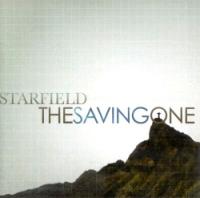 Artist: Starfield
Title: The Saving One
Label: Sparrow Records

Anthemic praise vs. vulnerable prose …

Having worked to marry the lyrical focus of worship tunes and the musical dynamic of trendy pop/rock with its 2008 record, I Will Go, born and bred Canadian rock quartet Starfield continues the association with its fourth national release, The Saving One. Divvying its track list between praise and prose, the band acknowledges the Christian walk's split reality between faith and doubt.

Affirming the latter, "Rediscover You" vulnerably admits, "My faith is paper thin/I'm feeling so burned out on religion," in a pulsing prayer reminiscent of The Fray's "You Found Me." "Something to Say" beautifully begs, "Help me not forget in darkness/The things I believed in light," with a piano resonating in perfect unison with lead singer Tim Nuefeld's haunted falsetto.

Affirming our hope in faith, the title track boasts a lift-your-hands, straightforward chorus of worship ("His love has made a way/The grave is overcome"), perfect for today's radio landscape. In another corporate track, "Absolutely" journals the genuine gratitude of a sinner saved by grace ("You have me completely/Every breath that I breathe/I am absolutely in love"), and "No Other Saviour" continues the exhortation ("Jesus, Lamb of God/How great you are … Every knee bows down at your renown") with a crescendoing bridge of Passion-like proportions.

Though the band's praise is certainly pure, Starfield's worship cuts offer little more than recycled jingles from choruses already penned. However, if they used more sonic space to explore believers' raw emotions, as a few of The Saving One's tracks confess, the band would likely relate to a much wider base of spiritual pilgrims quite convincingly.
Watch Starfield music videos at Godtube.com.

© 2010 CCMmagazine.com. All rights reserved. Used with permission.

**This review first published on March 23, 2010.