Starflyer 59 Delivers Strong Set on "Talking Voice"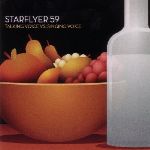 Artist:  Starflyer 59
Title:  "Talking Voice Vs. Singing Voice"
Label:   Tooth & Nail
A decade in, Jason Martin's Starflyer 59 has locked down an artful approach to eerily-haunting alternative rock that remains reliable without becoming predictable. The bold guitar rock edge of last year's "I Am the Portuguese Blues," perhaps owing some to Aaron Sprinkle's mix, has been replaced on "Talking Voice Vs. Singing Voice" with moody orchestrations, while Martin's lean compositions emphasize nuance and tone.
Can you say a band is prolific while pointing out that the 10 songs here clock in at just over a half-hour? Yet, Martin, backed this time only by drummer Frank Lenz (Plankeye, Crystal Lewis) and a host of studio players, continues to deliver a strong set of songs that hint at '80s rock influences without sliding into plagiary or self-parody.
Marked by smart song craft that's equaled by cool studio effects, Martin suggests momentary reflections rather than offering a clear definitive statement. Like snapping a Polaroid during a brief moment of confusion or realization, Martin's lyrics capture a sudden observation or a chance coming to awareness, like that "death is the middle" in "Softness, Goodness," or "Jesus Christ, help me because I'm lonely" in "A Good Living." These are not groundbreaking insights into the human condition, but  deal honestly with life's ups and downs in a faithful and ultimately encouraging way.
Musically, "A Lists Go On" and "Night Life" benefit from the string arrangements, while there's little here that feels tossed off or padded. Martin & Co. hold our interests with engaging arrangements, just enough pop song structure and the occasional burst of witty clarity.  In "Something Evil," he suggests that the "dumb have won," while the bouncy last track asserts that when "rock stars coming to meet the people" you want to get in "The Longest Line."
This is one for the iPod, no matter what you're waiting for. 

© 2005 CCM Magazine.  All rights reserved.  Used with permission.  Click here to subscribe.