Stay the Shores Sets Sail into a Promising Horizon
Ryan Duncan

2013

27 Jun

COMMENTS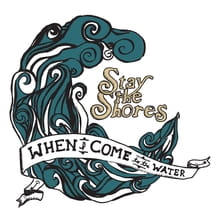 Artist: Stay The Shores
Album: When I Come to the Water
Label: Independent
The first thing that came to mind when I picked up this album from indie, Christian band Stay the Shores, was an ocean. A rolling white surf, where sand met sea, and where great ships waited to carry their passengers' home. God and water are two themes that have often gone hand-in-hand and Stay the Shores second installment, When I Come to the Water, makes ample use of both. Some might expect this classic approach to worship would quickly become redundant, but surprisingly, it's the exact opposite. Listeners will find When I Come to The Water to be a refreshing and versatile experience in modern worship.
The album opens with "Footprints of the Kingdom", a song which emphasizes an individual's task as a member of God's Kingdom. "Footprints" has a smooth melody with a hint of folk, and is the perfect way to set the stage for the rest of the album. Following close behind is "Than Anybody Else", a hopeful song featuring some impressive guitar talent and a message about seeking God in every way. Here the album takes a notable shift in style with "This is Not a Desert". Upbeat, and a little campy, the song is not the albums strongest, but the switch in style does keep the album from falling into monotony.
The track that will most likely get people talking is the albums the signature song, "When I Come to the Water". In a word, this song is all about joy, pure, unadulterated joy. Lead vocalist Brian Fannin does an excellent job, at times almost seeming to blend with the sheer delight of the music itself. It is a great song that listeners will surly want to hear again and again. The album ends on a slower note with a track titled, "Without You God".
Where "Come to the Water" was pure joy, "Without You God" is pure worship. The song lacks its predecessors elaborate melody, but it's simple, solid nature makes it perfect for singing in chapels or around the campfire on Church youth trips. In the end, When I Come to The Water is a strong second installment for this up-and-coming indie band. Stay The Shores has proven they can consistently produce good work, the first hurdle for every band looking to make it big. Though still somewhat new to their craft, the band certainly has talent, and it will be interesting to see where their travels take them in the future.
*This Article First Published 6/27/2013