Stellar Kart Rolls Out a Sophomore "Down"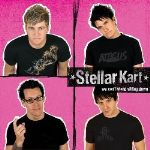 Artist:  Stellar Kart
Title:  "We Can't Stand Sitting Down" 
Label:  Word Records
Many of us live in denial. Denial that our lives are but a breath in the grand scheme of things. Denial that we don't have as much time as we think. Denial that we will eventually be held accountable for every wasted opportunity.

Because of this attitude and these false assumptions, it's easy for us to let our responsibilities fall by the wayside as we seek our own pleasure. The old adage "don't put off until tomorrow, what you can do today" seems to fall on deaf ears in this day and age, replaced by a resistance to responsibility and a desire to never grow up.
Speaking to this generation and issue, Stellar Kart returns with their sophomore release for Word Records, hoping to bring a more mature sound and show the band's growth since last year's debut. Indeed, the lyrics attempt to grapple with some hefty topics including our tendency to put things off ("Procrastinating", "Always Waiting"), letting life pass by without making our mark ("Activate"), depression ("Hold On"), loneliness ("Me and Jesus"), and following God's guidance ("Lose Control"). Despite the thematic depth, however, the lyrics tend to fall on shallow ground, failing to fully grapple with the issues at hand.
After the success of "All Gas No Brake," the group had made believers of the label, who in turn, pulled out all the stops for this release. "We Can't Stand Sitting Down" features production and writing help from Ian Eskelin, who has increasingly become one of the more influential individuals in the industry in the last few years.
While Eskelin's presence certainly gives the album a distinct bent toward pop-rock, it's also clear that the group was pushing for a more viable punk feel to the album. Whether it's the injection of guitar slides a la MxPx or the melodic choruses in the vein of Relient K or Hawk Nelson, Stellar Kart efforts to move forward with their own sound. Unfortunately, it feels like the group tried to do too much with this release and the result actually muddles the band's identity as they shuffle into the mix of similar bands within the growing genre.
"We Can't Stand Sitting Down" works well as a fun, lighthearted anthem for a youth group event or summer party. Stellar Kart reaches its audience with an encouraging message and a pretty enjoyable soundtrack, making the album one to check out for those looking to have a good time and escape life for a while.




© 2006 CMCentral.com.  All rights reserved.  Used with permission. 

Visit CMCentral.com now and join the single largest online community of Christian music fans on the internet.  CMCentral features  daily music news, exclusive interviews, album reviews, weekly devotions and feature articles written by some of your favorite Christian artists, and much more.  CMCentral is also the home of the most popular Forum for Christian music fans that you'll find anywhere on the Internet.  Come see what all the buzz is about!