Story Behind the Song: "Big Fish" by FFH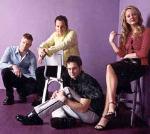 Dealing with the "dreaded in-laws" is something many married couples joke about, and that dialogue usually makes for great sitcom fare.  But for FFH's Jeromy Deibler, his mother-in-law, who he describes as "an awesome, conservative Bible-believing woman," sparked the inspiration for what's arguably the group's biggest hit—"Big Fish."
Back in 1995, after Jeromy and his wife, FFH vocalist Jennifer, got married, a phone conversation between his wife and new mother-in-law in their tiny Brentwood, Tenn., apartment led to her proposing a song idea she titled "Are You in the Big Fish?"  While that doesn't sound like an idea destined for the top of the charts, the lyrical concept was born out of one of his mother-in-law's pet peeves—people's tendencies to misquote the Bible.
The particular instance propelling her idea is the common belief that Jonah was swallowed by a whale—when in fact, the Bible says the prophet was swallowed by a fish.  Cleverly pointing out that a whale is not a fish because it's a mammal, she'd presented the framework for a quirky little tune that Jeromy ended up writing in about two days.  "It wasn't really my intent to write this song," Jeromy recalls.  "But that's just how my mother-in-law thinks, so I began writing this little song about the big fish."
Originally recorded a cappella for the group's earlier independent efforts before getting the full instrumental treatment on the group's Essential debut I Want to Be Like You, the song began garnering airplay at a small radio station in Pennsylvania and quickly reached the No.1 position.  After the tune began catching on at larger Christian stations like KLTY in Dallas and eventually became the highest charting hit from an independent band, Jeromy began to hear about the impact the song was having.
"People often like 'Big Fish' because it's fun and catchy, but there is this other group of people who've said they've actually pulled their cars over while driving and were crying because they're so convicted by its message," Jeromy remarks.  "It's one of those songs we'll have to play for as long as we do this, but we never expected 'Big Fish' to have that kind of response.  But we're definitely not complaining.  It's a blessing."
Used by permission.  CCM Magazine © 2002