Story Behind the Song: "One Girl Revolution" by Superchic[k]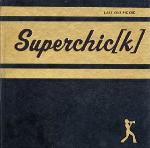 Real people have inspired pop songs ever since the beginning of time, which might help explain why almost every other chart hit seems to be titled after some girl or other. Occasionally, particular girls are even linked to the naming of bands. Fewer still, however, are those females that have acted as the muse for both a song and a band, simultaneously.  Yet the genesis of "One Girl Revolution" by Superchic[k] points back to just such a rare connection.
"Max Hsu (one of Superchic[k]'s non-chic[k]s) wrote this song about the original Superchic[k]," explains Superchic[k] singer, Tricia Brock. "He met her through his first band, Church Of Rhythm. I've never met her, but she was probably a girl he met at a show, and then exchanged emails with after that. Superchic[k] was also her e-mail name."
This original Superchic[k] may not have possessed the super powers of, say, Superman (or of any other superhero, for that matter) but she certainly did not lack for superior courageousness. Clearly, the force of her personality left an indelible impression upon Max. "She was individualistic in the way she dressed," Tricia continues. "For example, she would wear a sweat suit over her regular clothes, just to prove that what you wear doesn't matter; it's what's on the inside that counts most. She went on to become homecoming queen, by the way. So by being herself, people respected her."
"One Girl Revolution," continues to inspire Superchic[k] fans to just be themselves, and maybe even exhibit a little Superchic[k]-like behavior around their friends.  "Girls have written me and said, 'I play your CD whenever I'm having a bad day. Nothing else gives me confidence, like putting in your CD,'" Tricia notes.
So as unbelievable as this may sound, the Superchic[k] revolution actually began with just one real girl.

Used by permission.  CCM Magazine © 2003  Click here to subscribe.