Story Behind the Song: "Still My God"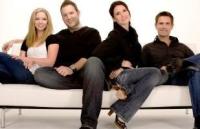 In honor of their Greatest Hits project hitting stores this week, we asked the members of Avalon to share the stories behind some of their favorite songs.
Newest member Jeremi Richardson shares the story behind Avalon's brand-new single, "Still My God," the one new recording found on The Greatest Hits (Sparrow).
Still My God

In the fall of 2008 at a meeting at EMI/Sparrow, Avalon heard a demo for our newest single, "Still My God." Different emotions became evident, and the message of this song proved powerful. Having never walked through this process with the group, I wondered how the song would take shape, how the vocal process would go. Personally, I wanted an in-your-face worship song; could this song cause people to worship?
I began digesting the song. We recorded it and a week later sang the song at a concert in Chicago. We began to sing, "If I'm standing on the mountain or drowning in the sea, if I am filled with hope or crying out for mercy. If I'm singing Hallelujah, or scared to make a sound. If I am learning how to walk or when I'm falling down, Jesus, You are still my God!" The response was powerful. The lyric obviously was the story of the people, and the truth of the lyric resonated in the heart of every believer.
Charles Spurgeon once preached, "Any man can sing in the day, but only God can give songs in the night!" Every Christian has a story, and somewhere in the chronicles of their life there will be a story about the song God gave them during their midnight hour. The Bible is full of people who made these decisions to trust God even in difficult circumstances. Job, Moses and Habakkuk each dealt with crisis and chose to trust God. Even in the midst of their struggles they stood in faith and proclaimed, "God is still my God!"
Our prayer is that this song will remind you that even when economic fear knocks on your door, God is still God! Life may hand you situations that are not what you prefer, but there is one who is constant and who never changes! He was, and is, and will be forever... He is still my God!


Avalon's new album, The Greatest Hits (Sparrow), is in stores now and features some of the award-winning vocal group's most popular songs. Visit avalonlive.com for more information.







©2009 ChristianMusicPlanet.com. All rights reserved. Used with permission.

**This feature first published on March 12, 2009.