Strong-Yet-Gentle "War and Peace" an Enjoyable Listen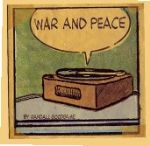 Artist:  Randall Goodgame
Title:  "War and Peace"
Label:  Independent
Randall Goodgame is a brilliant writer who has a knack for challenging the brain to think deep thoughts while delighting the ears with gentle, simple, yet beautiful music. The prolific composer of many Caedmon's Call songs, which we all know and love, has a brand of singing and songwriting that is uniquely his.
This lovely project begins with a trilogy of interesting and enlightening pieces inspired by the Peanuts comics. The songs' messages extend far beyond the "funny papers," however, so listen carefully. "Susan Coats' Pants" is a catchy little tune about the purchase of camo pants from a thrift store. The eloquent lyrics invite us to consider the life of Susan Coats, the pants' original owner.
Randall's folk/Americana delivery on "Share the Well" takes us to a new place with a song originally recorded by Caedmon's Call. Several of my other favorites are "The Legend of Pope Joan" – a nice history lesson for us all, "Dear America," "The Opener" – a comedic soliloquy about being the opening act, and "I Did Not Catch Her Name" – a song inspired by a Compassion International trip.
As a lover of well-written songs, I listen to "War and Peace" and muse, "How does he do that?" Randall has a wonderful grasp of vocabulary and uses it creatively and wisely. There are moments where the waters are so deep that I can't touch the bottom, but I don't mind.
Although I'm not an avid listener of Americana music, I enjoy "War and Peace" from start to finish. It's intellectual and simple, somber and light-hearted, strong yet gentle. I hope you will discover for yourself the folk melodies and well-crafted lyrics of the wonderfully talented Randall Goodgame.
 
For more information about "War and Peace," please visit RandallGoodgame.com.


© 2005 CCM Magazine.  All rights reserved.  Used with permission.   Click here to subscribe.