Stronger Has Difficulty Standing Out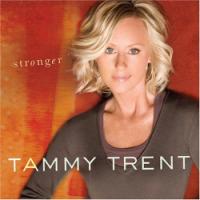 Artist: Tammy Trent
Title: Stronger
Label: September Day Records


Dance-pop songstress turns tragedy into triumph on buoyant new release …
You may not instantly recognize Tammy Trent's name, but you have probably heard her music. Beginning with her self-titled debut in 1995, the dance-pop singer released three successful records, spawning a slew of Top 10 radio hits and three No. 1's. But after Trent lost her husband in a freak diving accident in 2001, the typically sunny minister of song needed a break.
Taking time to grieve and reassess, Trent reemerged sharing her story of loss and testimony of healing at Women of Faith and REVOLVE conferences nationwide and releasing 2006's candid (and still upbeat) I See Beautiful. Nearly two years later, the singer/songwriter readies Stronger for the masses.
From the get-go "You" introduces the disc with an ambitious straight-ahead pop program, while "Shine" features a laidback guitar syncopating beneath Trent's radiant, Nelly Furtado-like vocal, creatively exploring our ability to bear witness even amidst trial.
In the record's most effective statement, "Edge of the Water" delivers Trent's personal testimony of terrifying tragedy and subsequent surrender with the transparent lyric: "When I stood on the edge of the water/With fading hope there would be a tomorrow/You held me safe in your hands/Reminding me I would walk again."
There is no doubt Tammy Trent's fifth record will find its place alongside Natalie Grant and Avalon in the catalogs of hard-core pop fans, but with so much music available today, it is difficult for new projects to differentiate from one another. From major label celebrities to independent no-namers, artists have to test their musical formulas in order to provide a creative edge, significantly pushing the envelope just to be heard.
On Stronger, lyrical poetry forfeits to kitschy catechisms, too often downgrading heartfelt prose to banal humdrum. Though Trent is not looking for heady, introspective verses, even the lighter side can be slighted by thoughtless rhyme.
What may have stood out even five years ago is hard pressed to draw attention in 2008. Unfortunately, Stronger fails to make the cut.


©2008 ChristianMusicPlanet.com. All rights reserved. Used with permission.

*This review first published on September 11, 2008.