Superchick, Kathy Troccoli, T-Bone & Yolanda - Feb 3 News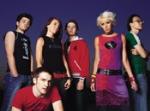 HAVE GUITAR…WILL TRAVEL - Oh, and you need skills, too. If you're hankering to be in a band and don't mind the Superchick moniker, then the position of lead guitarist with inpop Records' Superchick just might be up your alley. According to the band's Web site, "the great guitar player hunt has begun. Superchick seeks energetic lead guitar player to tour with. Must have 4 years experience and ability to work very, very hard. None of us make much money, so you must love what we do." Interested guitarists who meet all the reqs, should send an email here to apply (make sure the words "guitar player" are in the subject line). In other Superchick-y news, the female-fronted band just returned from a successful string of dates in the Land Down Under, as well as friendly neighboring New Zealand. At the same time, their "One Girl Revolution" ditty can be heard in movie trailers for the upcoming summer flick Legally Blond 2: Red, White, & Blonde, starring Reese Witherspoon.

K.T. ARE YA WITH ME - The lovely Kathy Troccoli just set sail on the fifth annual "KT & Friends Cruise" along with special guests Avalon, Greg Long, Scott Krippayne, and Steve Bell. Nearly 450 passengers went along for the nautical adventure to the Eastern Caribbean and will be treated to morning devos, evening concerts, and stops at various ports along the way. Hopefully, Kathy will get back in time for this year's GRAMMY Awards on February 23, 2003, as she's been nominated in the category of "Best Pop/Contemporary Gospel Album" for The Heart of Me. Time for that ship to come in….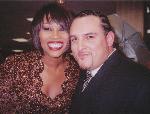 WINNING AWARDS, RUBBING SHOULDERS - Well, who should run in to each other backstage at the recent 18th Annual Stellar Awards but Christian music's no. 1 selling rap/hip-hopper T-Bone and Gospel great Yolanda Adams. Granted, the two already know each other…and their recent "I'm Thankful" collaboration on Yolanda's gold-selling Believe is proof positive of that. On stage at the Stellars, T-Bone presented the "New Artist of the Year Award", while Yolanda was honored as this year's Stellar Awards Hall of Fame recipient. And a good time was had by all.