"Surrounded by Mercy" – Music Review
Kevin Sparkman

Music Reviewer

2003

25 Nov

COMMENTS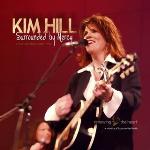 After a four-year absence from the recording scene, Kim Hill releases her third live worship album. And this is, by far, Hill's boldest musical offering from the "Renewing the Heart" series. Fresh arrangements on standards mixed with a few new tunes co-written by Hill and notables Rita Springer, Scott Krippayne, Judie Lawson and Jamie Kenney make this album a necessary addition to anyone's worship collection.
This latest live experience is highlighted by Ashley Cleveland's arrangement of "Revive Us Again." A bluesy version of this enduring hymn is classic Cleveland and is molded to fit Kim Hill's Memphis-rock roots to perfection. Another shining moment comes with Hill's arrangement of Chris Tomlin's "Famous One." Also consistent with this album's intrepid sound is an unfamiliar but viable medley between two familiar titles: the hymn "My Jesus I Love Thee" with Waterdeep's  popular praise chorus "You Are So Good to Me."
As a seasoned veteran of the recording industry, Hill's foray into the wide world of worship has proven to be a territory in which she flourishes. "Surrounded by Mercy" firmly entrenches Hill as one of Christian music's leading ladies of worship.

© 2003 CCM Magazine.  All rights reserved.  Used with permission.  Click here to subscribe.