Susan Boyle's Gift Doesn't Deliver Much Holiday Cheer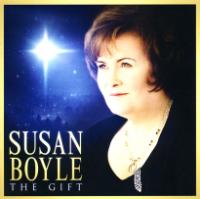 Artist: Susan Boyle
Title: The Gift
Label: Columbia/Integrity

Overbearing, cheesy production value + a curious set-list = a gift that doesn't keep on giving ...

Thanks to that jaw-dropping moment where she even wowed the notoriously grouchy Simon Cowell with her rendition of "I Dreamed a Dream" from Les Misérables, Susan Boyle has been one of the world's favorite Cinderella stories.

But even Cinderella's coach turned back into a pumpkin when the clock struck midnight, and that's exactly what it feels like when you're listening to The Gift.
Bascially all the magic that made Boyle such a standout soprano on the show and her debut, I Dreamed a Dream, has virtually disappeared, thanks to several ill-advised moves from a production standpoint and a set list so random it feels like it was chosen by somebody's iPod shuffle setting.

Considering that Christmas is getting closer and closer by the day, it's not surprising that Boyle might want to tackle the holiday catalog, something she's definitely got the voice for. But rather than simply put those Broadway-esque pipes to work on everyone's favorite sounds of the season, she serves up a very mixed bag of material instead.

Along with particularly bland renditions of "The First Noel," "Away in a Manger," "Do You Hear What I Hear and "O Holy Night" that don't exactly do her vocals justice because all the former richness has been stripped from the mix, Boyle also tackles Leonard Cohen's oft-covered "Hallelujah," Crowded House's "Don't Dream It's Over" and Lou Reed's "Perfect Day."

Huh?

From time to time, carefully chosen, non-traditional songs can really enhance the quality of a Christmas album (see Sting's If On a Winter's Night or Harry Connick Jr.'s When My Heart Finds Christmas) and ultimately make it a unique listening experience. But when the tracks merely feel tacked on and the songs have a cheesy, synthetic Hallmark card quality not befitting of a sophisticated, major-label artist, that's an entirely different story.

If anything, Boyle's Gift is the gift that doesn't keep on giving— one that inevitably makes you hope that she's got better people advising her the next time around. Only then will Boyle fit back into Cinderella's proverbial slippers and surprise the world once again.




**This review first published on November 11, 2010.