Switchfoot: Learning to Breathe
Jay Swartzendruber

2006

10 Aug

COMMENTS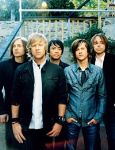 "'Why now? Why do an interview with CCM now?' That question kept me up last night," wrote lead singer Jon Foreman in an e-mail to me four days after my interview with his band Switchfoot. Indeed, brief pleasantries aside, that had been the very first topic I raised with my old friend and his four bandmates after firing up my recorder.
It was the kind of direct questioning that "Interview 101" courses will tell you to save for the second half of your on-the-record conversations. Something about helping interviewees feel relaxed, and, thus, more open and whatnot. Me? Then and there? I was banking on history – intangibles such as familiarity, friendship, integrity and, indeed, our common faith.
I first met Switchfoot's founding members – brothers Jon and Tim Foreman and Chad Butler – in late 1996. I liked them immediately. A lot.
Sadly, I can't say the same thing about their music. As the PR guy for Charlie Peacock's re:think label, I had been eager to see who we would sign as the follow-up to our beloved and wildly talented Sarah Masen. My introduction to this next new artist came when Peacock played our staff a VHS tape featuring live performance footage of a young Switchfoot, known then as "Chin Up." I was baffled. This was what our tiny familial label would bank much of its future on? Three words said it all: neighborhood garage band. Emphasis on neighborhood. While it won't bode well for my reputation as a music critic, I confess here that I didn't begin to see Switchfoot's potential until I heard final mixes from the band's Jimmie Lee Sloas-produced debut, "The Legend of Chin."
"I think it's really important to [remember] the early days," says Jon Foreman as I huddle with his band in the midst of their 33-city "Nothing Is Sound Spring Tour." On this cool, overcast day in Hartford, Conn., the six of us had retreated to a large backstage room in The Webster Theater, where Switchfoot would be performing for a sold-out crowd of 1,250 people in a few hours. "When we signed with re:think," Jon continues, "Tim was in high school, and Chad and I were in college. … We had a band in high school; that had generated some local interest, but we were never thinking we were going to get signed.
"We were like, 'Wow, this is legit; this indie startup is going to be great' … Charlie [Peacock] flew out, and we recorded some stuff. He flew back to Nashville, and the tapes got lost with his luggage. So, it's probably because of that that we got signed, 'cause we were pretty green!"
As Peacock prepared to sign Switchfoot to re:think, he became increasingly aware of his label's financial need for "deeper pockets." Thus, he sold the company to Sparrow Records, who, in turn, moved re:think's operations in-house. Since "operations" did not equate to "staff," I set out to pursue other record label adventures and never had the chance to represent Switchfoot.
At the time of Switchfoot's signing, the Christian music world wasn't even on the group's radar. Sure, Chad's father had been a member of the '70s "Jesus Music" band Parable, and Jon and Tim were the sons of a pastor; but they had no awareness of the industry or most of its artists.
"Our heroes were bands in San Diego like Heavy Vegetable and Three Mile Pilot – bands we thought were huge because they sold 30,000 records and toured outside of California," explains Jon. "We had no idea that Nashville existed as far as gospel music is concerned. There was no Christian radio in San Diego, so we were never exposed to it. So when re:think approached us, we were thinking, 'Oh man, there are people out there that are like us – people who are playing clubs and bars and churches.'"
And while that might describe the inclusiveness of most Christian labels today, back in the mid-'90s, independents such as re:think and Tooth & Nail were practically lone rangers in their efforts to establish artists of faith outside the Christian music circuit.
"Our understanding of [re:think's vision] was limited," says bassist Tim Foreman, "but in that limited understanding, I feel like that vision really resonated a great deal with us."
That's an important point to keep in mind. Switchfoot wasn't signing with re:think because its members had long dreamed of hearing themselves on Christian radio and seeing their faces on the cover of CCM, they simply wanted their music made available to anyone who might be interested.
While some may be surprised to find that the young Switchfoot never had aspirations of being known as a "Christian rock band," it was the trio's lack of aspirations in general that is even more surprising.
"When re:think first approached us, we were already saving up money to record a record, but it was never like, 'OK, I have to figure out whether I'm going to stay in school or not,'" recalls Jon. "Tim hadn't even graduated from high school yet! The second record ['New Way to Be Human'] was the same thing – we were like, 'Well, we're playing these shows; I'm living in my folks' house when we're home, which isn't very often; I love these guys, and I love doing this; I love these songs; let's just keep writing songs and playing music.'
"At some point with [2000's] 'Learning to Breathe,'" continues Jon, "we began to think, 'This is our third record – we should start taking the music a lot more seriously. Let's get better. We've done this for awhile; let's really step it up and practice.'"
Drummer Chad Butler reveals, "For years, I never believed that this is what we would do as a career. You know, you're just waiting for it to end, until you move on to something legitimate with your life. And then, years go by, and you're like, 'Wow! I'm really missing out on what this is – this is the life. This ride is where you're supposed to be.'"
All that isn't to say Switchfoot didn't work hard early on. On the contrary, the band spent a lot of time on the road with acts such as Five Iron Frenzy who taught Switchfoot the "do it yourself" punk rock work ethic. As a result, Switchfoot embraced a "drive your own van/make your own T-shirts" approach to touring.
At the same time, the band was learning important life lessons. "Charlie Peacock has been a big hero of ours," says Jon. "One of the things he said when we were working on 'New Way to Be Human' was that, at the end of your life, you won't look back and say, 'I wish we'd done more shows or put out more albums,' or anything like that. But you probably will say, 'I wish I had spent more time loving the people around me.' I think that's something that we're still learning."
While Switchfoot's reputation as musicians was on the rise in those days, it was the members' reputation with people that often preceded them. "Before we had ever met the guys in Switchfoot, we had heard a lot about them," Relient K's front-man Matt Thiessen tells CCM. "If you would ever bring them up in a conversation with anyone that knew them, they would all immediately say the exact same thing: 'That band is made up of the nicest guys on the planet.' The proof soon followed. We were a local opener that was lucky enough to get added to a Toledo date for a Five Iron Frenzy/Switchfoot tour. As we walked into the venue for the first time, all the Switchfoot guys went out of their way to introduce themselves and break any social barriers with the toothiest of California smiles. Honestly, we were awful little punk wannabes back then, but they still found encouraging words for us after we played our set. No band had ever made that kind of impression on us, and for good reason. We know nice people, but nobody is that nice."
That wasn't the only way Switchfoot was unusual in those days. "I always felt like Switchfoot was completely indifferent to what was 'cool' or 'marketable' at the time," recalls Nick Barré who was Peacock's right hand man at re:think. (Barré was recently tapped by EMI to be Vice President of Artist Development for the newly relaunched label branded "Rethink.") He continues, "The members of Switchfoot were never obsessed with becoming rock stars. I think it's incredibly ironic that they have such substantial commercial success. They never adapted their music to the marketplace – the marketplace adapted to their music. It's hard to believe now, but those first few Switchfoot records were a very tough sell. Everyone at EMI worked extremely hard on those records. At the time, there wasn't an overwhelming consumer demand for searching, introspective lyrics. The music flavor of the day was primarily spiritual 'pep rally' type music. But Switchfoot never was discouraged or cynical during this time – they simply stayed the course, refused to compromise; and their artistic integrity was rewarded."
Barré's observations are striking on a number of levels. After releasing three albums with re:think, Switchfoot landed a major label deal with Columbia Records in 2002 and went on to become one of the biggest rock acts in the country. It was at this point that the Christian music industry and its fans embraced Switchfoot. Prior to signing with Columbia, Switchfoot had never won a Dove Award. The band hadn't been Christian radio or CCM Magazine darlings either – not by a long shot.
With the release of 2003's "The Beautiful Letdown," all that began to change. Thanks to two multi-format smash hits – "Meant to Live" and "Dare You to Move" – the album sold more than 2.5 million copies as Switchfoot became MTV and VH1 staples. "The Beautiful Letdown" also won Switchfoot multiple Dove Awards, including the biggest, Artist of the Year. Christian pop radio started spinning the band's singles, and, yes, CCM Magazine wanted to put Switchfoot on the cover.
But that didn't happen – not then. When CCM requested a cover story interview in early 2004, the band decided to wait … for two years.
Remember that question that was keeping Jon Foreman awake? When that question was first posed during the band's interview, Jon said, "There has been enough miscommunication and enough rumors and different things floating around … I want to communicate who we are. I've had so many amazing conversations with people that started out as confrontations, and I think the reason being is, a lot of times, people don't understand who we are."
So, who is Switchfoot? Well, for one thing, the trio eventually evolved into a five-piece band – which they've been for three years now. Jerome Fontamillas (of Mortal and Fold Zandura fame) came on board as the keyboardist when "Learning to Breathe" released, and then guitarist Drew Shirley (formerly with All Together Separate) joined the mix just after the band recorded "The Beautiful Letdown."
"At their core, Switchfoot is the exact same band now as they were back in '98," says Barré. "The band was always relentlessly optimistic. They've continued to maintain a genuine spirit of innocence, other-centeredness and joy without any trace of naiveté. They've always been extremely streetwise without being sarcastic, jaded, world-weary or discontented."
And their one-on-one influence on others? "In 2001, we had the privilege of doing a full tour with Switchfoot and The Supertones," says Relient K's Thiessen, "and the influence that Switchfoot's personalities had on me still shapes a lot of who I try to be today. Jon Foreman is definitely a mentor of sorts. He has a heart that I strive to imitate and a gift for writing that I put in a category with the greatest of all time."
Switchfoot's longtime mentor makes no bones about his respect for the band either. "I couldn't be more pleased with the Switchfoot trajectory – high cultural impact while becoming more like Jesus, not less," says Peacock. "Like U2, the band exemplifies artistic credibility, humility and a love of justice and mercy. All the artists I'm working with now know that Switchfoot is the standard. They aim for nothing less."
If you ask the members of Switchfoot how to best get a handle on who they are, you might be surprised by the response. "I think lowercase people is the best example that we have of expressing who we are," says Jon.
lowercase people – the online magazine the band recently launched? You bet. Explained the singer, "lowercase people is enacting a lot of the songs and lyrics, you know, with our own hands and feet."
Lest you think this is a band's ploy to get you to visit some sort of self-promotion site, think again. "This is, perhaps, a much bigger concept than five guys in a band," said Jon.
Come again? You read right. Jon Foreman just said lowercase people is perhaps "a much bigger concept" than Switchfoot. (And did I mention at one point he said Switchfoot is "probably the only band I'll ever be in for the rest of my life"?) So, what's the story with lowercasepeople.com?  We discovered this enlightening statement in a call for interns which was posted on the site: "The lowercase people community is made up of free thinking individuals who share the common goals of pursuing beauty, seeking truth and enacting change in the world at large."
Says Jon, "I see this as being the online place for the arts and justice and that intersection of beauty and truth."
Suffice it to say lowercase people will be a significant part of Switchfoot's future. With regard to the future of the band's music, for perspective one first needs look to the recent past – "Nothing Is Sound," the Gold-certified album which Switchfoot released late last year. According to Jon, the album's songs are "definitely on the darker side of truth."
"To have made that record, and to feel like we're on the other side of that and making new music feels very hopeful," he says. Yes, the band has been working up some new songs, but don't go looking to mark those calendars anytime soon. As of yet, there are no set plans for the next album's release. And for those of you that like to read into things, Tim offers one tidbit that may – or may not – prove significant toward the next album's musical direction: "We're excited about weird sounds again."
Later that night – an hour or so after our interview – I enjoy the band's sold-out club performance for 1,250 of Hartford, Connecticut's biggest Switchfans. The chemistry between band and audience is magnetic. And there is something about the way Switchfoot nurtures relationship and equality with the audience that reflects who they are as people. "I write songs about a lot of things I don't understand – God, girls and math," says Jon as he introduces "Twenty-Four." "This is a song that involves all three. I wrote this song with a broken wrist trying to impress a girl on a skateboard. I wrote it … kind of the 3:00-one-morning-what-am-I-doing-on-the-planet type of song. It's the day before your birthday, and you're wondering why you're alive. So this song, for me, is a song about redemption."
Later, as the show ends and the lights come up, Switchfoot's sound man has the enamored crowd exit to the modern worship refrains of U2's "Yahweh": "Take this city/ A city should be shining on a hill/ Take this city/ If it be your will/ What no man can own, no man can take/ Take this heart/ And make it break."
I smile to myself thinking, Switchfoot's sending Hartford off with a prayer.

    


© 2006 CCM Magazine.  All rights reserved.  Used with permission.   Click here to subscribe.