T-Bone's "Bone-A-Fide" Truly Eclectic and Electrifying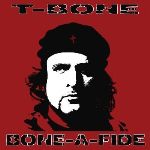 Artist:  T-Bone
Title:  "Bone-A-Fide"
Label:   Flicker
 
It may have been three years since barrier-breaking rapper T-Bone released a solo CD, but he's still been extremely busy. Perhaps most noticeable was his participation in the film "The Fighting Temptations," starring Cuba Gooding Jr., and Beyoncé. He also recently signed on to join double-platinum R&B artist Ciara onscreen in an upcoming movie, in between appearances on the MovieGuide Awards, E! Entertainment Television, MTV and Telemundo's "Entertainment News." But even with all that time exploring other projects and developing a well-rounded artistic framework, T-Bone remains a relevant rapper who carves out some of the sharpest hip-hop beats around, wrapped with funky flavor.
That return to form, along with an ambitious gaze down other avenues, comes to the forefront on "Bone-A-Fide," an eclectic and electrifying outpouring cemented by T-Bone's vibrant personality and abilities behind the mic. His supporting cast on the disc includes high-impact production teams such as Buster & Shavoni (Kirk Franklin, Yolanda Adams), the Avila Brothers (Usher, Janet Jackson) and Warryn Campbell (Missy Elliott, Mary Mary).
The song "12 Years Ago" bridges the "old school" with the new, tipping a hat to everyone from Run DMC to the Beastie Boys over bold guitar riffs. The Kanye West-esque "I Been Looking Around" dives in a much more melodic direction, while "Follow T" is the ultimate club thumper.
Beyond just this fusion of fun, T-Bone delivers a street-savvy message that will not only reach out to non-believing brothers and sisters, but also move the church to reach past its typical outreach mechanisms. Take, for instance, "Let That Thang Go," a track about the pitfalls of crime and fornication, plus "It's OK," an empathetic look at growing up in the gang scene but offering wholesome alternatives. The record wraps up with the resplendent chants of "Victory! Victory! Victory!" uniting all under the concept of determination and calling all to Christ. It's a fitting way to close a musical comeback of sorts with an album that's just as solid, if not stronger, than his work has ever been before.
 

© 2005 CCM Magazine.  All rights reserved.  Used with permission.   Click here to subscribe.