"Take Hold of Christ" - Music Review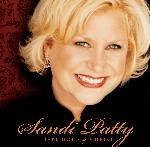 Artist: Sandi Patty
Label: Word Records
On her 26th career disc, veteran songstress Sandi Patty triumphantly returns to her inspirational roots — a wise move for an artist who's experimented with modern pop for a time only to garner mixed results.
Her fans should embrace this offering, which hearkens back to a style that first brought Patty acclaim more than two decades ago.
Teeming with lush arrangements, soaring soprano vocals and deeply spiritual lyrics, "Take Hold of Christ" delivers a powerful repertoire of hymn-quality songs with a few chandelier-shaking codas to boot. The buoyant "Fields of Mercy" and contagious praise anthem "Alleluia" stand apart. Perhaps the most precious gem of all is "How Beautiful," a gorgeous but simple worship tune that extols God's holiness and grace.

Used by permission. CCM Magazine © 2003 Click here to subscribe.
You can watch Sandi Patty music videos at Godtube.com.