Take It Back! Still Leans Pop-Punk on Rumors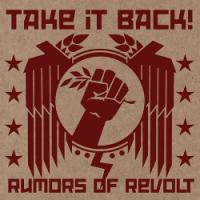 Artist: Take It Back!
Title: Rumors of Revolt EP
Label: Facedown Records
Youth in revolt …
A first look at the track listing for Take It Back!'s Rumors of Revolt EP might lead one to believe that the band has made a sudden 180, opting to head toward the indie singer-songwriter genre.
Song titles like "American Fantasy," "New Empires," "Rise Above," and "What We Are Fighting For" all conjure up images of peace-seeking guys with guitars in coffee shops declaring their frustrations with "The Administration." And while there is some truth to that in the message, the means couldn't be farther from the truth.
Fans have no need to despair; TIB! is seated firmly in their pop-punk hardcore leanings. Conjuring up a myriad of sonic images as they blend the positive pop-punk lyrics and melodies together with a mishmash of hardcore musicianship, the band simply rocks out. Nick Thomas's vocals rise and fall, scream and screech at the appropriate times as his band members seamlessly weave an interplay of fun and ferocity around him.
The EP features three originals as well as two covers from Black Flag ("Rise Above") and No Innocent Victim ("To Burn Again"). The covers fare well but it's the originals that really stand out. "American Fantasy" is a track that shrugs off the 9-to-5, better than the Jones' Baby Boomer mentality, instead looking ahead to something more meaningful. "What We Are Fighting For" probes the challenges of judgment and, to some degree, denominational differences, finally coming to the conclusion: "I will love the unloved. I will cherish the hated ones. I will welcome the shunned, with my sweat and my blood. And if we burn down the walls of this world, then we will burn through the hearts of the still. And if I must stand alone, then I will stand with my head held high." "New Empires" tackles similar territory, lamenting lukewarm spirituality and eventually declaring, "I will be the change I want to see in the world."
It's only five songs but, adding these to the band's solid debut, it's easy to see why Take It Back! is one of the hottest bands on the rise. Convicting and convincing lyricism coupled with solid musicianship add up to equal a great sophomore moment from this quintet out of Arkansas.
© 2009 CMCentral.com. All rights reserved. Used with permission.




Visit CMCentral.com now and join the single largest online community of Christian music fans on the internet. CMCentral features daily music news, exclusive interviews, album reviews, weekly devotions and feature articles written by some of your favorite Christian artists, and much more. CMCentral is also the home of the most popular Forum for Christian music fans that you'll find anywhere on the Internet. Come see what all the buzz is about!

**This review first published on January 5, 2010.