"Take Me Away" – Music Review
David Mackle

CCM Magazine

2004

6 Feb

COMMENTS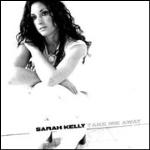 Artist:     Sarah Kelly
Label:    Gotee
Even though it's difficult getting people's attention in music these days, there's simply no ignoring Sarah Kelly. Female rockers aren't necessarily all that rare anymore, but a powerful voice like hers isn't exactly common either. On her debut,"Take Me Away," Kelly mixes this power with a patient sweetness (such as on "Living Hallelujah" and "More Than Anyone"), but one quickly learns that when her vocal engine isn't roaring, it is always on the verge of doing so.
Musically, Kelly is backed by some tasteful electric guitar textures that never drift very far from the melodic rock vein. Her confidence is obvious throughout but is most evident on songs like the compelling "Please Forgive Me," where blues and rock are decorated with a triumphant electric-guitar solo.
Overall, the most enjoyable quality about "Take Me Away" is that the songs just get bigger and bigger with each listen. And that seems to fit Kelly's amazing voice just fine.

© 2004 CCM Magazine.  All rights reserved.  Used with permission.  Click here to subscribe.