Tapestry Weaves Together the Promise of Holly Starr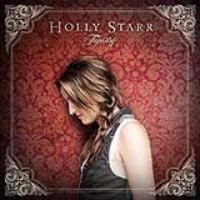 Artist:  Holly Starr
Title:  Tapestry
Label:  Independent

New artist Holly Starr serves up loads of potential on Tapestry ...

New artist Holly Starr's latest work and second full-length independent release, Tapestry, is so slick and polished, no one would ever guess that she's a young, 19-year-old indie artist from a tiny town in Washington.

With award-winning, highly sought-after producer Rusty Varenkamp (Tenth Avenue North, Meredith Andrews), behind the sonic palette of the album, Starr was blessed with an incredible producer right from the start, who really hones her sound and brings her talent to the forefront. Starr's lovely vocals lend sincere emotions to her mature lyrics, well beyond her 19 years. The young singer-songwriter shows serious potential both lyrically and musically.

While there are several upbeat tracks, including "Undertow," which was recently released to Christian radio, the ballads are where Starr's talent truly shines. "Take Me As I Am" is an acoustic tune that will make listeners instantly picture Bethany Dillon in their minds as Starr breathily sings, "I'm supposed to be in love with You/ Why do I fail You all the time?/ I'm supposed to be in love with You, but I'm afraid that it's a lie."

Next, Starr channels Colbie Caillat on "Come Close" with its bouncy rhythm and sunny lyrics, while the atmospheric sounds on "What Is Love" are equally reminiscent of the relaxed mainstream singer.

"I'll Watch You Dance" is another beautiful acoustic track that paints the poignant picture of God watching his children dance as the plans he has for us unfold in our lives. It's from the perspective of a faithful God smiling down on his children as they begin to realize that his ways really are higher, his plans better. "I Love You Anyway" is a touching song with a challenging lyric about loving people who are different. "My Cry" is a direct worship cut. Likewise, the last song sets Psalms 23to music with a breaking chorus of "Hallelujahs."

In contrast, the unmemorable upbeat tracks sprinkled throughout the album prove Starr is also capable of rockin' but don't do her songwriter's tendencies justice. If anything, Tapestry weaves together all of the varied promise of this burgeoning singer-songwriter. The album provides listeners with a window into her heart, brimming full of love, poetry and sincere passion for sharing the Gospel. Tapestry is a surprisingly mature effort for an artist as young as Starr, and it sets her up for continued growth and success in this genre.
 
**This review first published on December 2, 2010.