That Was Then, This Is Now a Fine Showcase for Chasen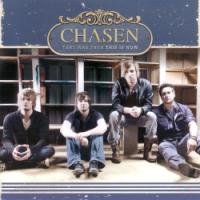 Artist: Chasen
Title: That Was Then, This Is Now
Label: INO Records

Bright new talent records fine showcase …

Arena-worthy hooks? Check. Sophisticated production? Check. Chart-topping lead single? Check. New Artist of the Year Dove trophy? Well, not yet. But with significant indie success and a major label launch any band would envy, worship-tinted, pop/rock band, Chasen, is poised to be Christian music's next big thing. And after listening through their first national CD release, That Was Then, This Is Now, it's easy to see why.

Courting instantly recognizable melodies over layered tracks of sonic goodness, the Greenville, SC-based band offers enough gloss to access a legion of pop fans while inserting a good amount of grit to pique the interest of rock die-hards. For instance, "Castaway" kicks off the record with a full throttle anthem for second chances and "Love in Your Name" keeps the fuel burning before settling into the lead single, "On and On," already No. 1 at radio, and an obviously successful balance of melody and lyric with its message of God's undying love in spite of our faith and subsequent discontent with worldly possessions.

Roots rock-tinged "Airplanes" a la Train blends driving acoustic guitars, strings and a full-fledge chorus to lyrically cope with the loss of loved ones, creating one a track listing highlight. A hard-hitting string quartet introduces the addictive rock ballad, "Slow Down" an encouragement to wait on the Redeemer for restoration and peace, and the acoustic-driven album closer, "There is Love," parallels the love for our earthly families with the love of God for his children.

Having successful co-writes recorded by Addison Road and Stellar Kart, front man and band namesake, Chase Callahan continues to prove his pen as a recipe for success. Whether it is his extensive observations of songs that communicate well as a worship leader for his home mega-church, or having received support from fellow Carolinian, Edwin McCain, and heavy influence from Christian music mainstays, Switchfoot and David Crowder, Callahan and producer Rob Hawkins (Fireflight) have created a standout new artist recording by what appears to be one of Christian music's rising stars.

© 2010 CCMmagazine.com. All rights reserved. Used with permission.

**This review first published on April 8, 2010.


Watch the latest Chasen music videos on their official Godtube.com artist page!