The Afters: Far from OK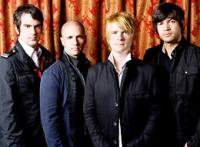 The Afters are funny … really funny.
Just ask them what they've learned since the release of their successful debut, I Wish We All Could Win (INO/Columbia).
"Long division," vocalist/guitarist Brad Wigg replies.
To which lead singer Josh Havens asks with a straight face, "Have you really?"
"Well, I've been working on the Rubix Cube," adds vocalist/guitarist Matt Fuqua. "I'm starting to comprehend it. How the colored sides are fixed, you can't change them. …"
In all seriousness, Josh rebounds, "I think we have learned a lot about our chemistry. … We have really learned how to be gracious to each other. We're like a family now. We love each other like brothers. … I think that we've also learned that we are not a band that writes music on the road very well. … We wrote our album during times that we had blocked off to be off the road. … I think we [refined] our sound, too."
"We have honed our skills on Call of Duty [WWII video game]," Matt interjects.
Okay, enough of that serious stuff. …
Drummer Marc Dodd adds, "Every tour that we're a part of, we at least recruit one member from each band to get hooked on it."
"It's nice to unwind shooting each other," says Brad.
This kind of unconventional humor mixed with the prolific is exactly what you get with The Afters—the perfect blend of candor and genuineness. You can't go five minutes with them without laughter … or coffee.
And speaking of coffee, the origin of this band takes us back to a Starbucks in Mesquite, Texas, where Josh and Matt started singing drink orders for extra tips. "People started asking, 'You guys really sound great together. Where can we [go to] a show?' We really hadn't thought about it," says Josh.
Hmmm … they would go on to score the theme song for 8th & Ocean (MTV's popular reality series), and they hadn't even thought about it.
Go figure.
Brad was actually a missionary at the time. When he started working at the same Starbucks, he was recruited. Marc just happened to work there, too. "It's a requirement for this band," quips Brad.
And while a common love for coffee, immense talent and creativity were not a problem, the band name took a bit more time to evolve. The original name? Screaming Mimes. Josh provides a disclaimer: "The whole concept was living out your faith … We were young, and Screaming Mimes sounded really cool to us at the time."
The band later changed its name to Blisse and began developing its local following in Dallas. After discovering numerous other bands held some form of this name, another search ensued, finally leading them to The Afters—an English term. "It stands for something that takes place after a formal get together or extravagant banquet," Josh explains. "If you can't afford to get all dressed up to go to the formal event, then they have the afters. Everyone's invited; it's not exclusive. Just come as you are. We liked the idea of that."
The title is fitting considering how they perceive their platform. "From the very beginning, we just wanted to play for anyone who would listen and because of that, we had a very diverse following," says Josh. "We hope to continue that as we move into the next record and be able to have music that hopefully builds up and edifies believers but then also is successful with people outside the church."
One listen to their brand-new album, Never Going Back to OK (INO/Columbia), and this vision becomes clear. The songs are tailor-made for mainstream, yet possess unabashedly bold statements of faith.
"We want people to see the beauty of God and His love for us, and the challenge for us is to package it in a way that people aren't going to just walk right by," says Matt. "We don't want them to be able to put us in a box … We want them to listen … That's how you keep the dialogue open."
"We hope that people judge our music on musical merit, not on the faith beliefs we have … A good example of that is iTunes," offers Josh. The digital retail giant originally had the band categorized under Christian/Gospel but soon switched them over to Alternative. "That's when it hit me," Josh continues, "There's a lot of people who won't give it a chance because it has that label on it … I don't want people to pass up our music or other great music done by a Christian artist just because it's in a section that's labeled by faith. …"
The band may have an obvious desire to reach outside the Christian subculture, but even so, the label "Christian music" continues to intrigue them: "There are other artists of faith—just not our faith—[and] they get thrown into this whole mixture of mainstream music. Whereas, if it says anything positive about Jesus, then it's thrown into the back corner of a store with all the other stuff that says something about Jesus," says Brad.
Confusing labels as well as people's misconceptions of Christians are barriers the band has scaled as various doors to the mainstream have opened for them over the last three years. However, they are quick to admit that being a Christian does make a difference, recalling numerous times while filming for a music video or visiting secular radio stations, conversations that have taken place because people saw a notable difference between The Afters and other bands.
The difference spread like wildfire. MTV just couldn't get enough of the band. "Beautiful Love," was certified gold after 100,000 digital tracks were sold, and The Afters' music was featured in Just My Luck (starring Lindsay Lohan) and ABC Family's "Beautiful People." Music from the band's debut was also selected for promotions in conjunction with American Airlines and American Eagle stores and has garnered attention from not only MTV, but also VH1, "E! News," BOP, Popstar and RollingStone.com, among others. The band even walked away with the "New Artist of the Year" Dove in 2006.
While Never Going Back to OK positions the band for additional general market success, The Afters are up for the challenge, and they're having fun while they're at it. Still, they take what they do very seriously.
Right underneath all the joking and quipping, it's easy to unearth the hearts of these four men. Just ask them about their musical heroes.
Brad: "The 77's. Just the way he [Mike Roe] captured all the different ways it feels to be human … so many facets of human emotion [he] put into words. …"
Matt: "Rich Mullins, and just his commitment to charity and humility … Just listening to his music; it was so passionate, you could just tell that he really loved Jesus."
Marc: "Geoff Moore [now the band's manager] … He has shown me ways to, while on the road and having a family at home, how to make those things balance and to just take care of those things."
Josh: "Michael W. Smith … I was a huge Smitty fan as a child … I just have a lot of respect for the way he has conducted his career and family and balanced that over the years. Even as a kid, I love how he had a desire to not only edify believers from the church, but he reached outside that and … made music that was relevant to the culture at the time." The Afters' own mission looks ironically similar.
One of the common qualities among these influences includes that precarious balance between life on the road and family back home—something all four guys deal with daily. All are married and quick to gush about their kids.
"The Afters are [my 4-year-old son's] heroes," Josh says. "He always talks about Marc, Brad, Matt and Daddy … He came up to me after practice and said, 'Daddy, can you take a picture of me with The Afters?'"
Marc adds, "[My daughters] don't care that I'm in a band, nor do their friends. They just know that I know the Jonas Brothers. That's all they care about."
Beautiful Words
Don't be fooled by all the good humor. These guys have worked hard, and it hasn't been easy. Need evidence? Look no further than the band's new disc.
"I think one of the big goals that we had for this record, we already accomplished," says Josh. "We set out to make what we thought was a stronger record than our first one, and I think we all agree that this album is a big step forward for us." The band gives major props to producer Dan Muckala (Backstreet Boys, Nick Lachey, Brandon Heath) for helping with that leap. "Dan pushed us to search deep and write about things that are really important to us," says Josh.
Muckala says OK reflects who The Afters truly are: "What makes me so excited about this record is that The Afters pushed themselves to go to the next level while still delivering songs that embody exactly who they are as a band."
They say the running theme that emerged proved to be one of transformation. But if one tried to choose a word to describe the jump between their debut and the brand-new release, transformation would be an understatement. They've been honing more than just their video game skills.
"We didn't set out with a theme in mind," Brad explains, "[but] we have grown as people, and [since the last record] we had become something other than what we were. And I think … our songs reflect that."
"There is not a single song on the album that we put on there to just fill up space," says Josh. "I feel like every song … has a reason to be on the album."
And every song has a story behind it. OK is not just another creative batch of ear candy. As the title would lead one to believe, The Afters refuse to settle for mediocrity. Instead, they've chosen to come into their own as a band, and the result is a beautifully crafted work of art, inspiring listeners to become all they can be and make their lives count for something meaningful.
The lyrical depth of the new songs mirror the light of hope shining through personal struggle and hardship. Take artistic gem, "Summer Again," for example. "[There are] seasons that you go through in life …" Brad says, "something that was really beautiful, then you see a temporary decay and a lifelessness and then a rebirth again, and it's a cycle we tend to go through from time to time." He says the song is open to interpretation, but it personally reminds him of his 8-year-old autistic son. "When I hear that song, I end up thinking about my little boy … I remember the time before he was diagnosed, and … he was such a happy, vibrant kid. And now he's so much different than he was. It's so hard to relate in so many different ways. We hope that there's a recovery there that we can get our little boy back."
Other songs were born out of personal life stories experienced by the other band members. The title track evokes thoughts from Josh about the transformation of his younger brother, who recently overcame a 15-year drug addiction. "I really look to him as evidence that there is no one who is ever really out of God's grasp, because he rejected God for the longest time," says Josh. "My mom used to always tell me, 'Don't give up on your brother. God loves him, and He is going to bring him back …' [My brother] is definitely evidence that we should never give up on anyone we love. And that's the thing, God's love can turn anyone around."
And that's the very definition of "Never Going Back to OK" for him: "Today's a new day. You can put everything behind you. It's all in the past—all the mistakes that you have made, all the struggles that we have, all of our regrets—and [we can] move forward, thanks to what God has done for us."
Another pivotal song on the record, "Ocean Wide," was birthed through a series of wrecked relationships that Josh witnessed. "In the world today, a lot of marriages don't succeed, and we make a lot of mistakes … God is forgiving of all those things, but it's awesome that God's love is not like that. He's never going to tell us, 'I don't love you anymore.' He's never going to tell us, 'I'm fed up with you; you're getting annoying.' But His love for us is forever, and it's because that love is an ocean wide. It's forgiveness and grace and mercy—all those things that make love last forever."
In revealing their own stories, each of the guys seem to possess wisdom normally found only with more seasoned artists. Hardly the transparency one might expect from a band that's famous for their face-time on MTV.
Brad continues to elaborate, painting a beautiful picture of the music they strive to create: "There's an un-noble part of life where we are only seeing a small section of the things that are going on with us, and we think about the way God sets out our time. The image that we have is God moving pieces around to teach us something or set something up so we will learn something later, and sometimes the things that we go through are amazingly difficult. But you come through that and you see that, Okay, that fell into place here and that fell into place there and sort of worked out so I will be where I am now. …"
But don't fool yourself into thinking that the new record is all dark and thoughtful and multifaceted. Leave it to The Afters to do what they do best—lighten the mood.
Enter "MySpace Girl," a song about their former bass payer who met a girl at In-N-Out Burger, looked her up on MySpace and ended up marrying her about six months later. The couple has been happily married for a year now and actually assists with the handclaps on the song. Forget MTV, with this song, the guys have dibs on VH1: "Maybe when they have 'Remember the 2000s,' when they flashback to the music, they'll remember the MySpace era, and then they'll remember the MySpace song," Josh jokes.
From the serious to the comical, the band clearly stretches itself—both musically and lyrically—on the new record, and fellow artists are already taking note. Among them, Skillet's Ben Kasica: "[OK is my] favorite record since Switchfoot's Beautiful Letdown. The songs have the hooks and heart that will grab people immediately."
Hooks and heart. That's what The Afters are all about…and they want to make sure no one is excluded from the message.
"We want people to know that our faith is the most important thing in the world to us," says Josh. "We're Christians, but we make music for everybody. We're never ashamed of our faith. God has opened the door for us to be able to talk about that in all kinds of places, even MTV. …"
"Beautiful Love" may have been where it all began, but The Afters are interested in more than just another smash single—they're out to bring a message of transformation to the world. Let's face it, they're leaving OK in the dust.

© 2008 CCM Magazine. All rights reserved. Used with permission.


**This interview first published on April 9, 2008.