The Afters Light Up the Sky with Latest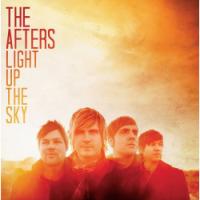 Artist: The Afters
Title: Light Up the Sky
Label: INO Records

The Afters debut most accessible album of band's career ...

Line-up changes are never easy, and oftentimes, instead of embracing a new season, bands begin to lose sound direction for their art. Add to that, the loss of a longtime manager and friend taken by cancer, and anyone would acknowledge that The Afters had plenty of cause to put out mediocre fare. The band had every reason to raise the white flag of surrender. However, instead of releasing a record just to satisfy radio or meet a label deadline, Josh Havens & Co. recorded the best album of their career.

The band has shed the grunge rock sounds of its former days and crafted 10 songs that fall in line with modern-day Top 40, songs so contemporary they can hardly be classified as "rock." Longtime fans, however, will not be disappointed, because the accessibility of these songs makes every melody infectious. Each song is glossy and slick thanks to the prowess of longtime friend and producer Dan Muckala (MercyMe, Brandon Heath), who has worked with the band on all of its previous efforts. Muckala's resume, which includes a laundry list of mainstream pop acts, shimmers on Light Up the Sky.

From the first affecting drumbeats of lead single and title track "Light Up the Sky" to the sunny chorus of "I Am Yours," listeners are immediately drawn in by the accessibility of these songs. Two listens through, and you're singing every word. The layered harmonies, hinted at on The Afters' sophomore release, Never Going Back to OK, take center stage, converse to the heavier rock sounds of previous albums. For the rock aficionados, "Start Over" and "We Won't Give Up" will please and are likely to provide some killer live performances, but the majority of the tracks fall squarely into the category of what the band calls "artful pop."

"Life Is Sweeter" and "Say It Now" reveal a new maturity, filled with experimental sounds and lyrics that deal with the hardships faced by the band in recent years. "Lift Me Up" speaks to the band members' unflinching faith in times of trial and contains inter-woven harmonies that easily help produce one of the stand-out tracks of the album.

The Afters have the art of crafting fine-tuned pop hits down to a science. Light Up the Sky is the result of not only a band being reborn, but of a group of men maturing and expressing their lessons of faith through exquisite three-minute pop gems. Light Up the Sky will garner The Afters a whole new set of fans who have yet to discover the genius of this band.

Check out The Afters music videos at Godtube.com.

**This review first published on September 14, 2010.