The Afters: Making a Splash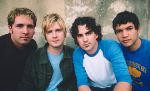 Modern rockers The Afters have been creating quite a media buzz lately with their debut album, "I Wish We All Could Win." The first band signed to the new Simple Records label imprint, founded by MercyMe's Bart Millard and producer Pete Kipley, The Afters hit the ground running when their album released early this year and entered the Christian album sales charts in the Top 25, a major feat for a brand new act. The band's first Christian single, "You," reached the Top 5 on Christian stations, while Epic Records released "Beautiful Love" to mainstream radio, where it landed in the Top 30 on the Hot AC mainstream chart for 16 weeks. The group even appeared on national radio program "Adult Top 40," where they were interviewed by host Ryan Seacrest.
"Beautiful Love" also landed The Afters on MTV's "Advance Warning," and the video became a favorite on mtvU, at one point, voted No. 1 ahead of Coldplay and The White Stripes. Now it's been nominated for an mtvU Award as the Most Downloaded video on the network. And if that wasn't enough, The Afters will be featured as an "Emerging Artist" in an upcoming issue of Seventeen magazine. This all follows the showcasing of their "Beautiful Love" video in a cool back-to-school promotion for American Eagle Outfitters.
We could go on and on, but you get the idea. If you're wondering where you can catch this band in concert, you might be in luck! The Afters are joining headliner Jeremy Camp and guest Bethany Dillon on the second leg of "The Restored Tour," kicking off next week (RestoredTour.com). And if you haven't heard "Beautiful Love," or the other great songs from this acclaimed debut, you'll want to do that … now.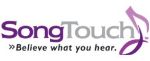 © 2005 SongTouch.com.  All rights reserved.  Used with permission.  Shop for gospel music and Christian church music downloads at  SongTouch.com.