"The Answer to the Question" - Music Review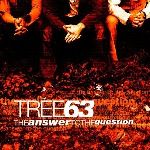 Artist:     Tree63
Label:    InPop

On its third major release, South African-bred rock/worship trio Tree63 delivers its tightest and most accessible recording to date. Once again, the band sports its standard Brit-influenced sound that recalls U2, Delirious and the vintage Police era. But this time around they mix things up more than usual, offering a diametric mix of effervescent pop/rock swirled in with assorted mid-range worship tunes. The result is a sonically compelling set, although the lyrics aren't as imaginative as one would expect.
Whether it's the joyfully rhythmic title track or the guitar-driven melodies of "King," the up-tempo selections move at a near-immediate pace without crossing the breakneck threshold. Hard-charging cuts like "You Only," which speaks of God's sovereignty, and the predictable Jesus-is-my-hero offering "But Now My Eyes Are Open" are replete with urgent guitar riffs and sing-along-required choruses.
On the softer side, standouts include the Matt Redman-penned track "Blessed Be Your Name" and intimate worship ballad "I Stand for You."
While Tree63 scores high marks for musicianship and production, they are graded down for lyrical content. Consider this vanilla stanza from "Over and Over Again": "Whatever I hear you say I'll do/Whatever you want, I want it too." But don't let this lack of creativity stop you from enjoying this satisfying aural treat.

© 2004 CCM Magazine.  All rights reserved.  Used with permission.  Click here to subscribe.