The Fray Shines Bright with Helios
Ed Cardinal

Crosswalk.com Contributing Writer

2014

4 Mar

COMMENTS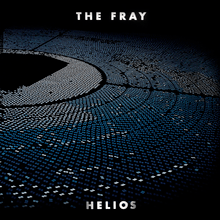 Artist: The Fray
Title: Helios
Label: Epic

Pop-rock band The Fray tore out of the gate in 2005 with its multi-platinum debut, How to Save a Life. Since then the piano-based quartet has had an odd mix of supporters and detractors. There are Christian listeners who appreciate the group's church roots and raw observations about faith. On the other hand, mainstream media have knocked The Fray for always being so serious. This fourth album, Helios, will appease both sides. Blending religion, romance, and retro, it's still too intense but also creative enough.

Opener "Hold My Hand" gives critics an easy target when front man Isaac Slade oversells his often sleepy voice as a guttural combination of Captain Caveman and Coldplay's Chris Martin, singing about "all the sh-- I did" and needing unconditional help: "I can't do this alone." Thumping first single "Love Don't Die" is better stated and a fresh break from the band's usual fare, a mildly psychedelic trip with echoes of U2's "Desire" and "Counting Stars" by OneRepublic (whose Ryan Tedder co-wrote this song).

There's a much-needed lightness to the disco flavored "Give It Away," a lyrically generic tune about love that ultimately does no wrong thanks to a terrific marriage of bass, drums, and cowbell; it's like Bruno Mars' "Treasure" for the college rock crowd. "Closer to Me" keeps the tempo up with an acoustic-driven groove in the spirit of The Cure's alt-rock classic "Inbetween Days." Reminiscent of The Fray's first record but clearly a step forward in confidence and execution, this is where Helios hits full stride.

Working for the first time with producer Stuart Price (The Killers, Keane), his influence is clear on "Hurricane," a fuzzed out rocker about passionate loyalty ("I want to hold her body close to me / I'll be hers and she'll be mine from dust to dust") with keyboard sounds a la Depeche Mode. A similar intimacy colors "Shadow and a Dancer," a young love ballad fit for a John Hughes film.

Helios always chases meaningful love, sometimes using Springsteen-like channels ("Our Last Days") or overwrought pop poems ("Break Your Plans") that don't quite resonate as likely intended. But pay attention to the world musical experimentation on "Wherever This Goes" and atmospheric jamming on quiet closer "Same as You." Both strip down to little more than vocals and percussion but stand among the best tracks. With less angst and more exploration, The Fray should continue to grow.
*Published 3/4/2014