The New Life Starts Here
Jay Swartzendruber

2004

19 Apr

COMMENTS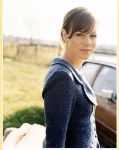 "Can I tell you a story?" she asks. Is she kidding? "Storyteller" is Sara Groves' middle name. And both in her art and in her life, Sara's stories are her language of choice.
With the March 23 release of her new album, "The Other Side of Something" (INO), Groves' melodic narratives are as deeply personal as ever. There's a good reason for this. 
Start by picturing Sara at the age of 4 – that's when the Springfield, Mo., native recalls a simple yet profound conversation with God in which she "wanted to know if Jesus would come live in my heart." As she puts it, "That was sort of the beginning of my journey."
True – 4 years of age would prove to be pivotal for Groves in other unusual ways. As her faith journey started, her pilgrimage as both a musician, via piano lessons, and a songwriter also began. "My mom has always been a songwriter, too," she says. "She's really artistic that way and does choir pieces occasionally for the church. I've always seen her writing music, so it was very natural for me to mimic her."
While Groves' songwriting didn't reveal its prolific potential before she was a young adult, the faith that informs it anchored itself throughout her childhood. As her parents made a focused effort to nurture a healthy, spiritual environment for their children, they also inadvertently created a family atmosphere that would enable Groves' potently relational songwriting style. "I think that comes from the home she grew up in," affirms her husband, Troy, who married Sara after they attended Evangel University in Springfield.
"What always amazes me about her songwriting is how she puts her finger on how to say what she needs to say, how to translate that in a sort of poetic yet lyrical way that just makes sense. Sara's folks are both educators, and lots of conversation goes on in their home. They're the kind of family that when dinner's done, things are just getting going. They will continue with the conversation at the table for hours. That's her foundation."
"I had been writing music all those years in college but hadn't matured in it," explains Sara, who now lives in Minneapolis with Troy and their two young sons. "I've always written from a therapeutic place, so a lot of the songs were really just long and rambling and exploring emotions. It certainly wasn't palatable for a larger audience. Then I started doing it more as a hobby and a craft and really enjoyed that. My father-in-law and my husband were the ones who said [my music] is for other people. They said, 'When you sing in church it ministers … let's make an album.' To me that was a very big deal because it was putting myself out there and acting like I wanted to do this. I never wanted to actually admit to someone that I wanted to do it. God just had to speak to me and say, 'False humility is worse than pride.' Every time someone gave me a compliment, my "Aw shucks" routine was not any more holy than just saying, 'Thank you. God gives good gifts.'
In the same way people often raise funds for a short-term missions trip, Sara's father-in-law drafted a letter asking about fifty of their friends and family to financially support her first studio endeavor. The response trumped the highest expectations, and "Past the Wishing," her first independent album, released in early 1998. Sara and Troy watched in grateful amazement as her music began to connect with a mass audience and attract the attention of record labels.
"As soon as we entered into the whole music industry, we very quickly had to get an education on how that worked," Sara says. "Troy was my defender. He started learning everything there was to know about the music industry – he became my lawyer, my manager, my booking agent … everything."
The next few years and a second custom CD, "Conversations," would see Sara establish herself as one of America's most well-received independent artists. After introductions to several recording companies were made, she and Troy found a kindred spirit in Jeff Moseley's artist-oriented label, INO Records (MercyMe, CeCe Winans). "When I first heard Sara's music, I heard it over the Internet, and I fell in love with it," says Moseley, INO's founder, president and CEO. "I got a CD, and I remember going home and talking to my wife. I looked at her and said, 'I think I've found an artist we need to work with.' And she listened to Sara's CD and said, 'You know what? You're right. She has to be heard.' For us Sara was truly a labor of love. Early on I remember thinking that it didn't matter how many records she sold; I felt like she was going to be important for the marketplace.
INO picked up "Conversations" and, adding two songs to it, distributed the album nationally as Sara's label debut. Sara soon landed a No. 2 pop hit at Christian radio with "The Word" and gained industry acclaim with a 2002 Dove Award nomination for "New Artist of the Year." And while INO had initially hoped Sara's re-issued indie album would sell 30,000 to 40,000 copies, "Conversations" actually went on to connect with more than 120,000 fans.
Two years, a second CD – "All Right Here" – and several radio hits later, and Sara's artistic stage would be primed for a breakthrough album. Just raise her production budget once again, let her do her thing, and she'd be good to go. Right?
Not so fast. This is Sara Groves we're talking about – what she lives is what you get. "The Other Side of Something" indeed.
Several months prior to Sara's record label debut, she and Troy had welcomed their first son into the family. Kirby, who's now 3 and a half years old, would become a focal point for unprecedented turbulence in Sara's relationship with God.
"I've been a believer all my life – I never rebelled," she begins to explain. "I never had a time in high school where I was rebelling against my folks or anything. I've always been really passionate about my walk with the Lord and wanted to represent God and represent my dad – who's a pastor – well. And I've always said [to God], 'Wherever, whatever, take everything. Make me, break me, send me to Timbuktu, whatever; but Your will be done in my life.' But when I had Kirby, suddenly, instead of just for myself, I was saying for him, 'Take him, make him, break him, whatever.' And I saw what 'whatever' meant in other people's lives around me. I was in a season of my life where a lot of God-fearing people – good people – were experiencing incredible hardship. A couple – friends of ours – lost an infant child, a girlfriend was having three miscarriages and just after my aunt had been reconciled with her son, he disappeared. They found his body in a field and still don't know what happened. He has two young boys.
"I had grown up thinking, 'If you do these things, then God will bless you this way.' And I was finding out through all these godly people in my life, who were following the Lord and doing these things – A, B, C – that hard things were still happening to them. "I don't know if this is the case with every new mom; but, for me, I started becoming 'mama bear' and really was on the defense against the Lord. I said, 'I want to know what I can land on because this son is my most precious possession. What are You going to do with him?' And I went to the Bible to find, 'You will always be safe.' That's what I thought I wanted. I wanted safety, and I wanted assurances that I would always be comfortable. Instead, I found Jonah running from God, Job scratching himself with a piece of clay and men plotting to kill Jeremiah. David, Paul, Peter – all of God's own – strung out, hurt, beat up, messed up, and I got so … I was hurt."
That year Sara and Troy were on the road 270 days. She became fatigued. In her words, "All my gauges were on empty – my spiritual gauge, my emotional gauge, my physical gauge – all of them were pegged on empty." She continues, "With all these characters in the Bible and all these people in my life, I became their lawyer to God. I was saying, 'Lord, leave Jonah alone. He doesn't want to go to Ninevah. He's tired. And leave me alone. I don't want to go to Ninevah. I'm tired. And don't have me swallowed by a whale – that's lame.' I was just angry. And Job, tell God, 'The second family doesn't cut it.' I just systematically went through all these things, and I was harboring this rebellion in my heart. Basically, at the end of the day, I was having a hard time swallowing the 'sovereignty pill.' It's a big pill to swallow. But that's the pill that says, 'Bad things happen to good people.' And He's working things out for our good, but we don't always understand it. And the Lord didn't have to, but He systematically answered every single question I raised."
But before the answers started coming, Sara spent several months defiantly challenging God's personal nature. "I was sitting up in front of the bus talking with our new driver, Dick. He was a total [Ned] Flanders guy. ('God is good all the time.') And I was not in that place at all. My attitude was so rotten. I said, 'Tell me your testimony.' He told me his only son had been shot by a friend goofing around with a shotgun. He was 16 years old, and Dick lost him. In the wake of their grief, he and his wife heard about a ministry to adopt terminally ill children from Russia. With everyone saying, 'You're crazy. You're in the middle of grieving. Why are you doing this?' they began adopting these children and either nursing them back to health or … One of these boys died in their home.
"So I'm talking to him in the middle of this season in his life. And it was so interesting, and it moved me; but I didn't quite 'get it.' And I went back to my bunk and was about to fall asleep when I felt the Lord just whisper in my spirit, 'Go up front and tell Dick, 'The second family doesn't cut it.' I had said this months earlier about Job. The Lord was listening to me, and I just balled … just fell to pieces because Dick and Job know something about grief and about gratitude that I will never understand.
Likewise Sara revisited the biblical histories of Jonah, David, Jeremiah and the rest of her "clients." She realized over and over again that her perspective and the convictions based on it had been far too narrow and one dimensional.
"All these people I set up as my reasons to not believe ended up being the very men who pointed me to God," she explains. "Jeremiah says, 'It is good to serve the Lord.' He ends up saying, 'His Word is good. It burns in me. And I can't hold it in.' And every single one of those people – Paul in chains and Peter upside-down on his cross – all of them end up saying, "It is good to serve the Lord." And in my heart I just said, "I want to know what they knew – to say in the middle of loss and pain … that bad things happen to good people. I am compelled to serve You because it is good to be with You.
"I grew up in a church environment that emphasized holiness. I love my background, and I value that as my homebase. But the focus on holiness became a hope to me. When I say in 'Compelled,' 'I have a new hope that blows away the small hopes I knew before,' my small hopes were that I could be holy, that I could actually clean myself up enough to be holy like Christ. And I tried to do that, and I made a pretty good go at it. I was a good, good person. But when I found out I wasn't holy, that I couldn't make it, it was unbearable. I kept sinning. And so I ran into the arms of a 'grace message.'
"Each camp has a name for the other one," she explains. "The one calls the other 'legalism,' and the 'legalism' camp calls the other one 'sloppy grace.' I ran into the arms of 'sloppy grace,' and I needed that message – that God loves me no matter what I do. But that camp tends to focus on our failing and falling. And so I spent a lot of time saying, 'Oh well … God made me; He knows I'm a sinner. I'm going to sin, fail and fall. And that's who God is – He's going to meet me and meet me and meet me.' I wasn't comfortable there either.
"This album is marking an epiphany that they're both true. God is calling me to a life of holiness, and He loves me no matter what. And somewhere in the middle of that is a new hope that blows away these two smaller hopes, that at the end of the day I am marked – I'm a child of God; and no matter what I do, He's not going to let me go. I am fighting the good fight, and it's not going to be determined by one action, one sin or one good work. It's going to be determined by finishing strong, and He's not going to let me go. And I just have to keep waking up every day and saying, 'My stuff is Your stuff, and I trust You.' And that's what the Lord has worked out in my heart these last two years. He's said, 'I want all your stuff, and your righteousness isn't in the balance every day. 'You've got a mark on your heart – you're My child. I've adopted you.'
"So that's what I'm on the other side of. I'm coming out of this legalism-grace war … And it's a great freedom and a great gratitude that He would keep teaching me."
"This whole album is trying to document that struggle for me – and hopefully that place of victory. And right now I'm in a place of extreme gratitude. I feel like I was in a fight with my best friend for the previous year and then this last year coming home, I just had time off the road; Troy and I had time to heal – we just had time to get back in our Bibles and hear from God. So we're coming out swinging … coming out of the corner, knowing that greater is He that is in me than he that is in the world. We're compelled to serve Christ, and I'm ready to go out in concert and give a rally call to all the people who are selling themselves out to smaller stories. We need to hear the call of Christ on our lives and to not just settle in but to pursue and live fully for Christ."
---
The Soundtrack
"Production-wise we went to make a 'movie,' instead of a 'play'," explains Sara Groves about her new album, "The Other Side of Something" (INO). "This time, I just said, 'You know what? I want to play. I want to have fun. And I'd like to add some other gifts into this.'
While Sara turned once again to her long-time friend and collaborator, Nate Sabin, to skillfully anchor most of the album's production, four of the CD's key tracks — lead single "The One Thing I Know," the hook-driven "Compelled," the empathy invoking "Esther" and the eclectic jazz epic "The Boxer" — would be helmed by Charlie Peacock (Switchfoot, Twila Paris).
"Sara and her husband, Troy, are the 'real thing,'" says Peacock. "It's so rewarding to work with people who love Jesus, good words, great art, family, goofing and just being human in general. I enjoyed producing Sara's music, but I'd pay her just to listen to her tell stories. You know it's good when you thank Jesus for creating particular people and with the Groves, I've done just that."
While Peacock's fingerprints artfully enhanced "The Other Side of Something," it was Sara's faith-deepening experience and beautiful knack for communicating truth through story that delivered the goods. In light of the past two years it might seem superficial for music critics or record label types to ponder the momentum of Sara's career and anticipate the timing of a potential "breakthrough" album. Regardless, one can't help noticing the far too uncommon intersection of relational depth, gutsy faith, optimism and tough love expressed via the fan-friendly folk-pop and the articulate, thoughtful lyrics on her new CD.
In describing the album, Sara says, "On other albums I strived to have different themes, make sure that two songs don't say the same thing. And this time I just let the songs just flop all over each other. I think that's because I was writing all this music from the same place." 


© 2004 CCM Magazine.  All rights reserved.  Used with permission.  Click here to subscribe.