The New Music Revolution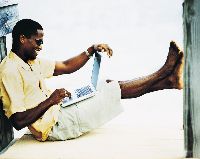 There's no talking about music these days without mentioning some kind of technological tool that didn't even exist a decade ago. Today, breakthrough artists are building international followings by the tens of thousands on Web sites such as MySpace, Pure Volume, Xanga and YouTube. Yesteryear's $200,000 recording budgets have been replaced by scores of hit records made for much less than $50,000 and recorded on laptops and in college dorms.
Fans are in on the act, creating their own Web sites, home-made videos and street teams to support their favorite bands. And label reps are signing bands based more on Internet action than club gigs.
Relatively few media options long made it possible – though expensive – to reach millions with a song or a brand. Digital compression, however, has changed all that. From wildly increased television options, to numerous digital radio alternatives and albums delivered instantly and electronically, it has become increasingly difficult to reach large audiences with a single message. On the other side of the equation, little guys now have access to millions of fans without spending millions of dollars. The Web has proven to be the great equalizer, giving fans more options, artists more access and traditional gate-keepers – such as labels, radio and retailers – some real competition.
A quick glance through the world of MySpace, the community-driven Web portal that, according to the company, started as a networking place for creative types and turned into as big a cultural phenomenon as MTV ever was, shows that anyone with a song, a computer and a little bit of desire can offer their wares up to the universe. But we're not talking all indie wannabes here – not by a long shot. Major, multi-million selling artists are embracing new tools such as MySpace and YouTube in a big way. Motion Picture companies are promoting blockbuster films there. DIY videos have become ad campaigns for brands like Coke and McDonalds. Christian artists have jumped in hard, and early, seeing new ways to reach out to a previously untouched audience and to keep in touch with their base of supporters at the same time. Sometimes those worlds collide, and sparks fly – just ask Skillet.
Win Friends and Influence People
The modern rock act has already found itself in trouble with parents and youth pastors a couple times, thanks to some of the public feedback the band has received within its MySpace community. Skillet's MySpace page (MySpace.com/SkilletMusic) currently boasts more than 50,000 "friends" – essentially a large opt-in network of people interested in the artist's work – and non-believing fans sometimes discover the site and post positive comments complete with the occasional expletive.
The blowback irritated front man John Cooper. "We want to reach out to the world and have a positive influence, and you can't [expect] these kids are going to be talking like Jesus when they don't even know Jesus!" he says. "It's the same with church. If we're doing the job we say we want to do, and getting non believers to come to church, then we're going to have some kids coming to church smoking cigarettes and wearing Slipknot T-shirts."
Popular bands such as Skillet aren't the only ones intent on making "friends" on MySpace. When it comes to breaking a new act, building a massive network of these friends has become more important than building a strong local following. Meanwhile, the importance of radio success (not even an option for many Christian artists) is fading as streaming music, podcasts and digital downloads increase in popularity. In fact, from the comments made by several major-label A&R reps, more bands are being discovered online than in concert these days.
As a director of A&R for EMI Christian Music Group, Chris York signs bands and helps develop their work for release. He says of new Internet tools such as MySpace, "It's playing a huge role, and we're talking about it every day. When we're looking at bands that we sign, it used to be about how good the band was and how good their songs were. But now it's about what kind of presence do they have on the Web, and how many plays do they have on MySpace? Do they have videos up?"
In addition to being a long-time member of alternative rock act The Choir, Dan Michaels heads up the marketing department for INO and S/R/E Records. He has seen this phenomenon transform his day-to-day efforts. "We encourage our artists to have constant connection with their fan base. It's not enough to release a record every 18 months to two years. We need to have bonus content, exclusive content, videos from the road. We're constantly working with artists to provide things like Sony Connect, iTunes Originals and Napster Live."
Bryan Ward is a director of artist development for EMI Christian Music Group and works with artists such as Steven Curtis Chapman, Rebecca St. James, Bethany Dillon, Shawn McDonald and Vicky Beeching. He sees tools such as MySpace and YouTube as absolute essentials. "For my roster we have to rely on it," he insists. "With Shawn McDonald and Bethany Dillon, the singer/songwriter artists, they don't always get the big radio hits. They're not writing for that. They want to make great art, and if it gets on radio, great. If it doesn't, they'll find other ways. We have to use the Web and these tools as a major part of the marketing plan."
Dillon, who earned some mainstream attention last year when her music was included in the film "Dreamer," saw her Alexa Rating (a rating of the most trafficked websites in the world) jump up to 85,000 overall, higher than most general market acts and all Christian market acts, as she constantly posted new content on her official site such as journal entries and personal videos. Her MySpace site was used to drive people to her official site.
Jamie Rowe, who was the lead singer of the rock band Guardian and currently maintains his own independent solo career (MySpace.com/ JamieRowe), has turned his prowess for promotion into a quietly growing new business he calls Spark Media. As a sort of MySpace consultant, Rowe helps labels build and maintain pages for their bands and coaches them on how to make the most of the opportunity. (See MySpace.com/ NewsboysOfficial, /Tree63, /MondayMorning or /DecembeRadio for examples of Rowe's work.)
Rowe admits that corporate manipulation of the medium can obfuscate the truth behind the numbers, but insists that there is still a way to make a lasting impression by engaging this environment. "You can have a ton of friends, and it can be meaningless if all you do is send promo messages," He insists. "But if you sincerely show an interest in making a connection with your fans, I don't think there's anything better out there." Several of the bands Rowe has worked with have attracted tens of thousands of fans and have seen success with radio singles as a result. "When Sony's only website for a new movie is a MySpace page, you know it's big," he says. "It's the Rubic's Cube of 2006."
It's a brave new world, to be sure, and it has affected nearly every aspect of the writing, recording, distribution and promotion of music. The latest "big morph" has changed the nature of making music at the DNA level, leaving almost no trace of the old regime behind. Christian artists are taking full advantage of these tools – this new paradigm – to deepen the connection they have with their fans and to expand their reach to a new musical audience not limited or constrained by the infamous Christian/Secular divide.
Backstage Pass
Skillet, whose new album, "Comatose" (Lava/Atlantic/ Ardent/S-R-E), touches thematically on the darker side of the new techno reality young people are growing up with, sees the potential vividly. Cooper, who admits he is the least technologically-savvy member of the band and who rarely even sends e-mail, says, "I want the fans to feel that they have a role in what we are doing," He also appreciates how cool it can be for fans to have access to their favorite artists. "When I was a kid, if I could have talked to Petra online, I never would have done anything else!" he laughs. "I used to write to Petra and Rez Band and Barren Cross and say, 'You guys are cool, what's it like to be in a band?' Then I'd wait for months to maybe get a newsletter. Now it doesn't cost anything to send out a newsletter."
The commitment Skillet has made over the years to being accessible to its fans online, and after shows, has created a familial bond that gets stronger as time goes by. Through video blogging and journaling the band has kept fans updated on much more than concert schedules and new releases. Personal events such as marriages and the births of children are talked about alongside shows and albums. "I can't believe how much people feel a part of what we do," Cooper confesses. "I think most of that is because of making ourselves available. I do the same thing at shows, but we just fuel it with the relationships online."
Hand-in-hand with MySpace is the growing popularity of digitally delivered music via services such as iTunes, Napster, Burnlounge and Yahoo! Music. Such is the demand for specialty tracks that Skillet recorded five "unplugged" versions of songs from "Comatose" for use as exclusives by various Digital Service Providers (DSP's).
Skillet's manager, Zach Kelm, is well aware of the new paradigm his band is working in. "The market has changed so much in the last five years," he says. "This stuff has revolutionized how you can do business. Skillet's audience is so young, they are at the forefront it." Kelm admits, though, that the days of traditional radio and retail are not over. "You have to get to your base, and if they are living on the Internet you have to be reaching them there. We're going to do all our traditional brick and mortar retail promotions, but we'll also do the digital stuff with singles, exclusives, e-cards, video blogging and more."
Skillet's multi-pronged attack began with video journals from the studio that chronicled the creation of the album, sneak peak tracks on their MySpace page and even the posting of full songs. More than 150,000 people streamed the single "Rebirthing" before the album's release last October. It was estimated that nearly 15 percent of Skillet's first week sales were digital downloads; a number that is more than double the industry average. In fact, in its first week of release, "Comatose" hit the overall iTunes albums chart at No. 19, the Best-Selling Rock Album chart at No. 6; and, it was the best-selling Christian Digital album of the week. (The album also debuted at No. 55 on the Billboard Top 200 chart.)

Focal Point
Singer/songwriter Shawn McDonald owes his career to MP3s. As an independent artist in Seattle, he used the original permutation of MP3.com to promote his music online long before MySpace was around. His efforts paid off. More than 100,000 downloads got the attention of EMI who signed him up. Since then McDonald has stayed at the front edge of the new-media revolution with blogging, creating his own videos, and, of course, mastering the science of MySpace. His most recent brainstorm, a contest for fan-made videos of his songs, generated 100 submissions and boosted his sales and concert attendance.
"The idea [for the video contest] was birthed out of the fact that we make our own videos," McDonald explains. "We started doing these little short clips for parts of the live show. We put them up on the Web, and we had an amazing response from people watching them. Then, all of a sudden, all these fans started posting their own videos of shows or of songs. We just rolled with it and thought it would be fun to see what kind of videos people would come up with if we did a contest." All involved were shocked by the response from the fans. "Not too many people I know even know how to make videos," McDonald says. "It's amazing to me that a hundred people took the time to make their own." Examples of these homemade works can be seen at ShawnMcDonaldMusic.com.
McDonald has a new plan for engaging his fans online. "We're working on a 'how-to' series," he adds. "We're going to make videos of how to play my songs and post them on the Web. We'll interact with the kids, tell a story about why a song was written and what it's about. Then I'll play the song in front of them and show them the chords." McDonald also handles all his own MySpace activity, including approving friend requests and answering particularly interesting questions.

This Must and Shall Go Free
Some might call him an anarchist, but Derek Webb is using the Internet to give away the farm. His critically acclaimed album, "Mockingbird" (INO), which has been hailed by influencers ranging from Jars of Clay and Sara Groves to authors Donald Miller ("Blue Like Jazz") and Brian McLaren ("A New Kind of Christian"), has been offered as a free download this fall for 90 days. In this era of illegal file sharing and peer-to-peer thievery, it may seem counterintuitive for an artist, with his label's blessing, to offer his work for free this way. But for Webb and his label, INO Records, it makes perfect sense.
"There are a certain number of people whose radar I'm on," Webb explains. "It's a respectable amount of people who buy my records. It's not a ton, but it's enough for me to make a living, and it's very satisfying." Webb believed, however, that there were more Christians out there who would be interested in his strain of music than could be notified by traditional Christian media such as radio and magazines. He and his label used personal referrals to give away as many copies of "Mockingbird" as they could in a 90 day period. Webb spent some serious time researching the issue of digital distribution and Internet trends and arrived at the conclusion that free digital distribution makes perfect sense if done correctly. "A lot of piracy laws have been enforced in order to protect artists like me, to make sure we get paid," he says. "I think it's been done with good intentions, but if the results are music fans feeling ashamed about sharing the music they love with their friends, then the whole piracy scare has done us all a great disservice."
Perhaps the most surprising part of this story is that Webb's record company went along with the idea. INO's Dan Michaels saw the logic straight off. "The way INO structures deals is unique," he admits. "And the fact that we are independently owned allows us certain freedoms or opportunities to zag when everyone else is zigging. Derek seemed like the right artist to pursue this grand experiment. One reason is that he has a strong and profound fan base that is very Internet savvy, and the other is the content of the record is something that we felt was a great message, and we were compelled to get it out."
The experiment worked. Midway through the 90-day period, more than 65,000 people downloaded "Mockingbird" and told their friends. Audiences at Webb's concerts more than doubled, and interest in his catalog titles continues to rise. It's a unique experiment, and its success practically assures other artists and labels will attempt the same thing.
Pleased to Meet You
Michaels' expertise in new-generation marketing goes beyond Webb. Platinum-selling artist MercyMe was somewhat late to the MySpace ball, but wasted no time in taking full advantage of all it has to offer. INO set up MercyMe's page, but the band quickly commandeered it, making it their own. After a few months they had a couple thousand "friends" and decided that wasn't enough. Vocalist Bart Millard hatched a plan and unleashed it upon the Internet.
The offer was simple. Bart wanted the existing "friends" to tell their friends about MercyMe and to help the band build its list prior to the release of "Coming Up to Breathe." He made them an offer they would choose not to refuse. When the band reached 10,000 fans, and then for every thousand new friends thereafter, MercyMe would write, record and post a special song exclusively for its MySpace community. The band reached its goal in no time and honored its commitment. Before long MercyMe had more than 25,000 friends and had posted 13 hilarious songs for its fans–spanning all genres from rap to heavy metal. The band had to take a break from the impromptu recording for its tour, but adapted the plan and took it up a notch. MercyMe invited fans to submit videos of themselves dancing to the song "3:42 a.m." – with the best ones played on the jumbo video screens on the band's fall tour.
MercyMe also recorded its entire "Coming Up to Breathe" album acoustically and has been doling it out gradually, and exclusively, on its podcast. Similarly inventive plans with Sara Groves, Mark Harris, Skillet and others are setting standards and turning heads.
The Digital Horizon
In an environment where "new" becomes "established" overnight, everyone seems to look for the next big thing. Though YouTube's home-spun video anarchy has supplanted MySpace in terms of sheer traffic, the combination of the two remains the most visited area of the Web. Add to that the growing market share for digital music (one percent of total sales three years ago and six percent now) and the new demand for video content, and the industry leaders CCM spoke to are not looking for these trends to change any time soon.
EMI Christian Music Group's Bryan Ward sees it as an essential element of customer service. "As we've seen the music industry decline over the last few years," he ponders, "I think the attitude now is that we can't force people into a corral, which might be retail, and make them buy their music there. You've got to make it available wherever they want to buy it. If that's on their mobile phone, you gotta have it there." His colleague Chris York agrees. "Sure, there will be something else down the road. We don't know if MySpace will even be around in two years. But for now, this is where the people are."
In the end, most involved boil it all down to the ubiquitous concept of community. "Back in the day," Jamie Rowe suggests, "it was all about the mystique, but now it's all about the accessibility. People think they know Pete Wince from Fallout Boy because of MySpace. Hawthorne Heights would not have seen that kind of success (gold certification), but they personally spent hours each day posting messages, answering email and approving friends."
Derek Webb is even more philosophical about it all. "This is the difference between being in the record business and being in the music business," he muses. "If I'm in the record business, my full-time job is selling round pieces of plastic. That's what I do. If I am in the music business, I am connecting people with music and making my living being creative in a variety of ways. That, to me, is the way of the future."


© 2006 CCM Magazine. All rights reserved. Used with permission. Click here to subscribe.