"The Praise Baby Collection: Praises and Smiles" – Review
Harold Schrader

Contributing Writer

2004

25 Feb

COMMENTS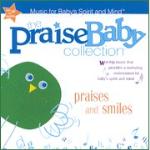 Nice going, Baby Einstein.  If you spend any time around infants or toddlers, then you've likely seen this popular multimedia product line that stimulates young minds with classical music and simple footage of colorful toys in action.  It's an elementary idea, well designed to encourage a new generation of geniuses.
Admiring the formula, a new Christ-centered children's product company, Big House Kids, has opened its doors with "The Praise Baby Collection: Music and Video for Baby's Spirit and Mind."  The series takes the Einstein theory one step further, believing sound and vision can touch the heart, not just the head.  To that end, "Praise Baby" trades classical music for praise and worship songs, using them as the soundtrack to accompany bright film clips of toys, zoo animals, fish tanks, flowers, stained glass, and much more.
"Praises and Smiles" is the first release in the collection, available on VHS and DVD.  True to its title, the project goes for the grins, showing images of happy kids having fun with bouncing balls, bubble blowers, and dress up clothes.  In addition, tastefully crafted computer animation is interspersed throughout, sharing simple ABC and 123 lessons and introducing a lovable baby bird character that pops up during some of the live action.  Overall, the visual production is high quality and on par with the competition.
Even better is the music of "Praises and Smiles."  Adults play praise and worship albums so that the words will seep into their hearts and direct their daily lives, and it should be no different among children.  Here, favorite songs like "I Could Sing of Your Love Forever," "Open the Eyes of My Heart," and "Shine, Jesus, Shine" bring a joyful air to the room that's uplifting to all.  Ten songs are featured in the 30-minute program.  DVD viewers can choose to hear them with adult vocals, child vocals or as instrumentals.
Perhaps the most convincing "Praise Baby" selling point is the story behind its creators.  Big House Kids is a company led by 2004 Grammy winning rock act Audio Adrenaline, who released the biggest Christian radio hit of the 1990s, "Big House."  The band members who started out together as kids, who have always ministered to kids, are now married with kids of their own.  They are deeply vested in the "Praises and Smiles" target audience – 1 to 36 months – with a heartfelt interest in providing little ones with the very best in spiritually nourishing entertainment.