The Real Special K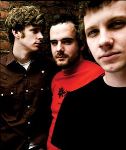 Despite having sold more than 365,000 copies of each of their two previous albums, the guys in Relient K still act like the down-to-earth kids they really are. These Buckeye State natives display no attitude, pretentiousness or self-destructive habits. But then again, a band can't sell that many records without tapping into at least one rock star cliché. Laughs Relient K singer Matt Thiessen, "Well, we almost got arrested the other day!"
Don't worry, your favorite Motel 6 is still standing. Relient K's run-in with Johnny Law didn't entail trashing hotel rooms or reckless driving; but, rather, it involved a pile of bottle rockets and some local citizens who watched one too many Ice Cube movies. After finishing up a show in northern California, the band started firing bottle rockets into the sky, and a sleepy community awoke in fear that a gunfight was ravaging its city streets.
"The cops got a bunch of phone calls about a shootout," continues Thiessen. "So next thing you know, we've got four or five cop cars heading toward us. It was crazy because they just kept coming. It was like, 'How many cops does it take to stop some bottle rockets?'"
Adds guitarist Matt Hoopes, "I was in the bus playing video games at the time, and I knew I had to get out there and see what they were doing. So I ran out the door and as soon as I did, I saw the cop cars swarming. It looked like a S.W.A.T. team. I just turned around and got right back in the bus. I thought, 'This would probably be a good thing not to get involved with.'"
Though shooting off bottle rockets is illegal, the police found the misunderstanding so funny that they let the band off the hook. Nevertheless, Relient K — featuring Thiessen, Hoopes and drummer Dave Douglas — are ready to set off some more fireworks in retail record bins with its new disc, "Mmhmm" (Gotee). "We wanted to make a good rock record, something that has its own character," says Hoopes about the band's fourth disc. "Our new album has a lot more piano and other instruments. We didn't just turn the distortion pedal on and chug through the songs. It's more diverse than that."
Adds Thiessen, "We wanted to stretch a little bit beyond what we've done in the past. We wanted to make the album not sound like all of our other records but not stray so much that we stopped appealing to [our core fans]."
As on past albums, Relient K tackles relationships on several songs, from the earnest "The One I'm Waiting For" to the twisted "My Girl's Ex-Boyfriend." Thiessen pokes fun at Attention Deficit Disorder (including his own) on "Maintain Consciousness," and nods to the recent election with a caustic political song that's aptly titled "The Only Thing Worse Than Beating a Dead Horse Is Betting on One." Overall, "Mmhmm" retains Relient K's humor without being as silly, yet the band also expands some of its deeper themes with songs like "I So Hate Consequences."
Discussing the track, Hoopes remarks, "Even though the title is on the 'cheese ball' side of things, the song talks about coming back to God and realizing that He still accepts us when we mess up. We often run away from the consequences of our mistakes when the one thing we need is God and the humble experience of returning to Him."
Adds Thiessen, "Lyrically, it's still us being us; but there's not so much bubble gum. When we started out, we listened to a lot of goofy bands; but now I'm 24 and trying to grow up a little bit. But hopefully we don't grow up too much because we're still trying to have fun and not take it so seriously."
Without question, "Mmhmm" offers great promise for this Canton-based punk band, especially coming off the considerable success of 2002's "Two Lefts Don't Make a Right … But Three Do." With a swelling fan base, Relient K may see its new album become a staple in the upper echelon of the Billboard sales chart (After all, "Two Lefts" debuted at No. 38.) and hopefully spark some mainstream radio airplay. Likewise, should the album outsell its predecessor, as each Relient K release has done before, "Mmhmm" could bring the band its first gold album. Yet for all this excitement, the band seems cautious. While "Two Lefts" gave the guys a bigger stage, it also brought more responsibility and some difficult circumstances.
"It was a tough year for us, not as far as record sales or any of that, but there were a couple things we had to deal with," says Thiessen. "You know, it's just being on the wrong kind of tours and dealing with the whole general market-Christian market thing. I don't ever want to say anything negative about what other people are doing because it's really none of my business; but, unfortunately, we just involved ourselves with the wrong situations and had to learn from those mistakes."
The band won't get specific, but it seems Relient K finds itself dealing with identity issues. While the band grew up in the Christian market and still embraces those values, the guys hint at things that might suggest reservations about how Christian bands are sometimes marketed or the awkwardness of being paired with bands that have different callings. "One thing we've learned is that there are things that look like great opportunities; but, at the end of the day, they don't 'gel' with our vision for the band," explains Hoopes.
Adds Thiessen, "It's tough because some of these things would be very advantageous as far as a marketing or business perspective. We're always weighing the pros and cons. 'Well, this is pretty beneficial to the band, but I'm definitely not excited about it.' We figured out that the more excited you are about something, the better. If you do too many things that you're not excited about just because it's 'smart' business, the band's not going to last. You're just going to get sick of what you're doing."
As one might expect, this perspective has also penetrated the band's lyrical approach. Hoopes notes that early on the band felt the need to tie every song into a Christian message. For example, Relient K covered the "Charles In Charge" theme on its first album, and in a line about hanging out with Charles, the band changed it to hanging out with Charles and Jesus. When the guys look back on that song, they feel they weren't actually encouraging anyone, but instead they were actually making light of something serious.
"We learned to make songs that are really important be exactly that," says the six-stringer, "and for the silly songs, leave them as they are and not try to make them into something they aren't."
"If you are writing a song that's funny, obviously, I don't want it to be of deep spiritual consequence because that's just weird," Thiessen adds.
If the band does have identity issues, it would seem most apparent in the way it perceives its place in the Christian market. Hoopes notes how Christian music is the only genre classified by its lyrical content and not by its musicality, and this can often cause confusion when it comes to filing Christian bands by in mainstream music stores. Likewise, as the band matures and becomes more popular, they progressively see a greater impact being made from playing regular club shows. "That seems to feel like maybe it's more our calling," says Hoopes. "I think we've been trying to figure out how to do that, how to get in front of people who haven't heard of us before."
So where exactly does that put them in the Christian marketplace? Asked if they are a "Christian" band, Thiessen says, "We're whatever anyone wants to call us." But then pushed if he personally would call the band 'Christian,' he responds, "You know, I don't, really. I wouldn't go around saying that we're a Christian rock band because there are a lot of connotations that go along with that. If I told someone who doesn't know about Christian rock music that we're in a Christian rock band, he'd think we're up there preaching; and we're not like that."
Still, the band isn't fighting the Christian tag, especially from people who understand the band and how faith works in their lives. The singer continues, "In talking about this, I don't want to sound negative and come across as these pompous kids. We're not like that at all. We really don't care if you call us a Christian band or not. Call us a Christian band; that's fine. We're just trying to be careful."
The band openly aspires to reach more general-market fans and, with its sales record, Relient K has had a lot of interest from major labels. But in mid October, as this interview takes place, Thiessen and Hoopes are very uncertain how it will all play out.
"Being on a mainstream label is something that we would want as an opportunity, but it's not something that we can't live without," says Hoopes. "We would just like to be able to play more with bands that aren't just in the Christian market and to play shows in front of people who aren't all Christians. It's where we feel we have the most impact."
Thiessen goes on to explain that the band has come so close to a mainstream deal on so many occasions that the guys don't even stress about it anymore. He laughs, "We've probably been what we thought was a week away from a [mainstream] record deal five times this year. I don't even tell my parents anymore because so many things have fallen through. It's not discouraging, though. If it were a case where our band wasn't surviving, it would be different, but we already have a great record label in Gotee that's really supportive."
Ironically, even as these words are coming out of Theissen's mouth, Relient K is once again a week away from a potential mainstream deal. Only this time, Thiessen will have something to tell his parents.
The life-changing day arrives on Friday, Oct. 22 as Relient K signs a major recording contract with Capitol Records, label home to Radiohead, Coldplay, Paul McCartney and The Vines, among others.
In the initial days following the announcement, Relient K shies away from talking with members of the media, including CCM, about the new arrangement. However, within a week Thiessen posts the following statement on Relient K's online message board:
"We just wanted to let you know that in addition to Gotee Records, our new record "Mmhmm" will be released on Capitol Records as well. This came as a surprise to us about three weeks ago. We want you to know that our album was already completed before Capitol showed interest. Most of you may not care, but for those of you that fear that a band may sell-out or change when they hook up with a new label, put your minds at ease. Regardless of what label is distributing our music, we're just ecstatic to put out our new album and play the songs live."
It should come as no surprise that, according to the agreement with Capitol, the long-supportive Gotee Records retains distribution rights in the Christian market.
"I'm just excited for the band," responds Joey Elwood, Gotee's co-founder and president. "They've 'over delivered' on their contractual promises to us from the first day we started our relationship and have continued to be completely stand-up guys in the process. I have every reason to believe their character and talent will serve them very well in the years to come. It's not the end of our relationship with the band; its just kind of like a redefinition, which usually is a good thing in matters like these — especially when the band has contributed so much to our label."
If you notice a hint of an almost fatherly pride in Elwood's words, then there's a reason for that. Gotee Records has provided significant support, considering that Relient K wasn't exactly an overnight success story. Looking back, Thiessen, Hoopes and former bassist Brian Pittman grew up knowing each other since second grade. In late 1997, the trio started the band with a different drummer and christened themselves Relient K after Hoopes' hunk-of-junk car, a rusted-out Plymouth Reliant K. The rookie rockers soon did their first show in a friend's kitchen on New Year's Eve. Playing for about 15 people, the band filled the room with amps and a drum kit but no microphones, so the threesome sang at the top of their lungs to be heard.
From early on, the guys were hungry to make it, and who wouldn't be with the jobs these guys worked? At different times, Thiessen was a Wendy's night manager making six bucks an hour, Douglas cleaned huge supermarket welcome mats, Hoopes got fired from a record store for not alphabetizing correctly, and Pittman actually worked at a pet store where he once saw the ferrets get out of their cages, climb the walls and drop into the guinea pigs' cage. Says Thiessen, "It was, apparently, a slaughter with blood and fur everywhere."
Fortunately for them, the band only needed a month before they found someone to help with a demo. Thiessen recalls, "Mark Townsend, who produced every one of our records, is a good friend from our hometown. [Hoopes] had a crush on his daughter pretty much since second grade, so we'd go over there all the time when we were in high school. [Hoopes would eventually marry Townsend's daughter Danielle.] We finally convinced Mark to record our demo for about 200 bucks. He was also playing in dc talk, so he gave the demo to Toby McKeehan, who is, of course, a partner in Gotee Records."
The man who discovered Relient K smiles as he recalls that first $200 recording session. "Right before dc talk did "Supernatural," my family was living in Canton, Ohio," says Townsend. "My middle daughter, Ashley, came up to me and said, 'Dad, we've got this band of guys that hang out with us — they're a punk band. Could you cut them a break on a demo?' It's my daughter; I mean, what am I gonna say? Someone told me later that they'd been a band just a month before I met them — a month!
"So in come these guys with just cruddy-sounding amps, guitars that sound like junk — just cheap guitars that play totally out of tune — and the drummer had like these big, thick drumheads that sounded like he was smacking cardboard. It was horrible.
"I just set 'em all up in my little house studio," Townsend continues, "and we quickly knocked off 15 or 16 tunes, just boom, boom like a Beatles first record. The music was like Green Day, MxPx or whatever — just not executed real well. We waited to cut vocals until the evening. And they had this blond kid, this lead singer who basically goes up there and sings everything with a fake British accent. It was kind of funny. But when he was singing, my ears pricked up just a little bit because I was listening to some of the lyrics, and I thought, "You know, these guys are rough; but there's something clever going on here. The next day I mixed it all in one day, which I would never do in the real world. It was really just 'garage band.'
"The next thing I know, these guys have pressed a thousand copies of this thing and are selling it at their shows," he says, still amusingly amazed. "Toby McKeehan knew I'd been producing some indie things, and awhile later he asked to hear what I'd been working on. So I played him a few things, and he asked if I had anything else. I said, 'Well, I'll play you this punk thing I did.' And what caught Toby was some of the humor in the songs."
McKeehan signed the band to a development deal and in the year or so that followed, Relient K recorded three more demos with Townsend. Gotee had an imprint, SMLXL Records, on which the band's debut disc was schedule to release. As fate would have it, the Gotee staff liked Relient K's self-titled debut so much that they officially signed the band directly to Gotee.
At this point, Steve Cushman had taken over on drums and played on the debut disc, but
he would quit a year later as the band prepared to record its follow-up, "The Anatomy of the Tongue in Cheek." That's when the band finally recruited Douglas.
"Our first drummer was friends with Dave, and we all hung out in college," recalls Thiessen. "By the time Steven quit, we had known Dave for years; so we actually stole him from another friend's band. Regrettably, he had to learn all the new stuff in just two weeks because that's when we were going in to record our second album."
Breakneck practices aside, "Anatomy," ultimately, proved to be an early breakthrough album for the band. They partly attribute this to listening to better music, specifically bands like the Get Up Kids and Jimmy Eat World. They also claim Ben Folds as big inspiration for the piano songs and NOFX for the humor.
Though "Anatomy" sold big numbers, no one really expected the level of success that "Two Lefts" would experience (now approaching 400,000 copies sold) upon its release in early 2003. The band blew up at Christian radio, elevated its touring profile and became one of Gotee Records' marquee bands. Despite all this, founding bassist Brian Pittman left the band this past August. Initial indications from Relient K were that the departure may be temporary.
Pittman played on most of the new album, but for the 10 or so shows since, the group has
had a friend fill in on bass. Asked about his absence during our interview in October, neither Thiessen nor Hoopes provide any details except to say that the current situation is amicable and until there is more clarity, both the band and Pittman will refrain from discussing it with the media.
Apparently, there's been more clarity in recent days. Remember Thiessen's message board statement about Relient K's deal with Capitol? Interestingly, it came almost as a sort of side note, tagged on the end of a much lengthier announcement about Pittman's departure, which read in part:
"After almost seven years of being in Relient K, our cherished and lifelong friend, Brian Pittman has decided to move on to other things … Brian decided to leave the band in June, so we've had plenty of time to let the initial shock die down.
"He thought long and hard about his decision, and he came to the conclusion that he would like to do other things than play bass for the band. We respect him for it.
"We'd be lying to say that we're not all completely bummed that Brian won't be a part of Relient K anymore. And though we know things won't be the same without him, it must be said that we have always valued our friendships with him more than our onstage relationship.
"Anyway, all of us still hang out, and it's like nothing is different at all. I feel like that's how you know that you've made a friend that will be there for the rest of your days. We want to thank Brian for all the years he gave the band. You're the best, buddy."
At present, Relient K is essentially a three-piece until they decide on a permanent replacement. Still, through all these highs and lows, the members of Relient K keep their down-to-earth attitudes because they feel grateful for the amazing opportunities afforded to them. "We're just regular dudes who shouldn't really be in a band but somehow are," laughs Hoopes back in October. "I think it helps us relate. When people talk to us, they realize we aren't any different than anyone else. We didn't do some crazy thing to put us where we are right now. It's just something that happened to us, something with which God has blessed us."
While their humility is still in tact, their recent life lessons will steer their future for years to come. Thiessen concludes, "Everything we do affects a lot of people because they see what we're doing; but after this whole band's over, it's really about how we feel about what we did. A lot of decisions get made on, not on money or popularity, but on how I feel about it in my heart. That was a huge lesson. When we started out, it was about trying anything to get fans. Now what's most important for this band is being happy with everything we do."

Photos by David Johnson
© 2004 CCM Magazine.  All rights reserved.  Used with permission.  Click here to subscribe.