The Upside of Down Offers A Variety of Worship
Ed Cardinal

Crosswalk.com Contributing Writer

2012

8 Sep

COMMENTS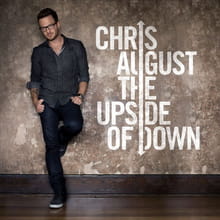 Artist: Chris August
Title: The Upside of Down
Label: Fervent Records
Thirty-year-old contemporary Christian singer/songwriter Chris August is certainly a musician to watch. Following his 2010 debut set No Far Away (featuring the standout "Starry Night") he won the industry's Dove Awards for New Artist, Male Vocalist, and Pop/Contemporary Album of the Year. This second act, The Upside of Down, is a solid if not altogether groundbreaking restatement of such duly noted gifts and accomplishments.
Chris came up through the ranks as a keyboard player in reality television celebrity-singer Ashlee Simpson's band, and there's no doubt that experience instilled in him the importance of delivering strong hooks. The Upside of Down is frontloaded with as much on the neatly written radio single "Center of It" and refreshingly honest albeit sing-songy title track. When I feel invincible, a million miles from miserable, it's always all about me. Why am I a fair-weather friend? August asks God on the latter.
He's best in those moments of vulnerability when real, unexpected emotion trumps a tendency toward formulaic song arrangements. "This Side of Heaven" is a good example, a lilting acoustic piece made special by his pondering of all the things we think we know but honestly we really don't. On the funky "Unashamed of You" Chris admits, I'm really good at dancing . . . dancing around the point before boldly proclaiming his faith. With a sweet mix of fun and transparency, it's a target audience hit just waiting to happen.

August will likely remind many listeners of John Mayer on soulful gospel pop cuts like "Amen" (taking a similar shape as "Waiting on the World to Change") and "I Believe." Therein lies the potential drawback; despite their catchiness, sometimes the tracks just sound too familiar or predictable as on "Let There Be Light" and "A Little More Jesus."

Better moments happen on the marriage championing "Restore" and nostalgic "1989," a country-flavored endeavor where he strives to recapture a time when every day was full of chasing dreams.
In all, The Upside of Down succeeds in reminding us that God's strength is made perfect in our weakness. But it could have been a more focused listening experience. Including fourteen tracks gives the artist a greater chance of wearing thin, and showcasing too many styles (pop, funk, folk, gospel, even a hint of Americana) has its own downside.
*This Review First Published 9/8/2012