The Verdict is in: "Rock & Roll is Here to Stay."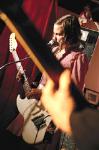 Turn on the radio, pick up a music magazine or check concert listings, and it won't be long before one fact slams you like a size-12 boot in a mosh pit: Rock & roll feels fresh again.
Rock never went away, of course; and, to borrow from classic-rock icon Neil Young, it may never die. But, at times, it seemed like it needed a trip to the emergency room. In the last 15 years, pop, country and R&B have eaten away at rock's once-dominant share of music sales. Flavor-of-the-month trends (remember ska and electronica?) diverted fans, and the prominent rise of hip-hop seemed like the final nail in the coffin. At one point a few years ago, Rolling Stone's front cover featured U2 and the telling headline: "U2001 – Making the World Safe for Rock & Roll."
But, welcome to 2004. Rock seems to have found its footing again – not only in the overall market but in Christian music, too. According to the Recording Industry Association of America, rock accounted for 25 percent of all music bought in America in 2002 – about the same level as in 1998. That's still higher than country (11 percent) and about the same as hip-hop and R&B combined. Pop actually declined between 2001 and 2002 – down to 9 percent.
Need further proof? Witness rock's big showing in CCM's latest Readers' Choice issue (January), which had a more decidedly rock tilt than last year, as it gave awards to Pillar, Sanctus Real and Relient K. And the top three vote-getters for "Favorite Artist" were all bands. Even one of 2003's most popular movies, "The School of Rock," featured a down-on-his-luck rocker looking for redemption.
So why is rock reigniting in the Christian community? Maybe it's a desire for authenticity, a delayed reaction to the late-'90s sugary excess of boy bands and pre-fab pop singers. Perhaps it's because the modern-worship movement was sparked by rock bands such as Delirious, Sonicflood, Third Day and the David Crowder Band. Or maybe there's just something irresistible about six strings, three chords and a Marshall amp cranked to 11. Either way, rock, once again, seems to have found a way to revitalize itself and recapture listeners.
"I think people get tired of the fads, and they want something that's real that they can relate to," says Jerry Morrison, bass player for rockers Bleach. The band released its fifth album, "Astronomy," last year on Tooth & Nail and just announced its impending breaking up. "Pop music tends to get sort of plastic and somewhat fake after a while. Even some of the bands you know get into a rut where it all kind of starts to sound the same. People are copying each other, and it turns into something sterile. But there will always be a rock & roll band that will come out and have this fresh, new sound."
To get a handle on the state of Christian rock in 2004, CCM talked to more than a dozen artists and industry pros. We surveyed the landscape of last year's hottest releases and concert draws and looked ahead to new artists who may help shape rock in the coming year. Again and again, a theme emerged: Rock remains vital to Christian music, thanks largely to the passion of its artists and fans.
"It's such a unique thing," says Matt Thiessen of pop-punk band Relient K, talking about the energy at his band's shows. "I mean, where else in the world do you ever encounter rock stars or anything like that? You know – individuals from stage causing complete chaos within a crowd of people, who are singing along to every word? You never see painters having a show at a gallery and people coming from all over the place and just going crazy. I think rock & roll is a one-of-a-kind thing. There's nothing else in the world like it, so there will always be a place for it."
Breakout Artists
So, who are some of the Christian artists keeping rock fresh? First consider Switchfoot, whose gold-certified "The Beautiful Letdown" (Sparrow/Columbia) is becoming the Christian community's most significant breakout success of the past year. Led by frontman Jon Foreman, the San Diego quartet – which includes Foreman's brother, Tim, on bass, Chad Butler on drums and Jerome Fontamillas on keys – had released three albums before signing with Columbia for "Letdown." Mainstream radio and video outlets eventually took notice. The album's "Meant to Live" and accompanying video stormed the charts even as the group navigated the murky waters between faith and general-market success. "We're Christian by faith, not genre," Tim told Rolling Stone last year, an explanation that gave an articulate voice to any number of Christian musicians trying to make their way beyond the Christian industry.
"They're doing really well," Relient K's Thiessen says. "They're making great music, and they're putting out spiritually loaded lyrics. And I think that's pretty admirable."
Relient K, itself, hasn't been doing too shabby, either. The band's  third full-length album, "Two Lefts Don't Make a Right … But Three Do" (Gotee), has logged 300,000 sales since its release last year. A video for the single "Chap Stick, Chapped Lips and Things Like Chemistry" garnered exposure on MTV2 and Much Music. "We're on the "WoW" compilation – stuff that probably wouldn't have happened for a punk band a couple years ago," Thiessen states. As far as rock's health, he says, "I think it's on a band-by-band basis; but, in general, right now punk rock, emo, hardcore and all that stuff is probably at the highest point it's ever been."
Several other artists had breakthrough years in 2003. Sanctus Real saw its major-label debut, "Say It Loud" (Sparrow), help them establish a rabid fan base, which propelled the Toledo, Ohio, rock band to nab CCM Magazine's 2004 Readers' Choice for "Favorite New Artist." The band also played dates with Relient K and O.C. Supertones on the well-received "See Spot Rock" tour. Rock, from the guys' point of view, is alive and well. "It was really refreshing to know there are still kids out there who know what cool rock music is," Sanctus Real lead guitarist Chris Rohman says. "I'm starting to see kids who are really digging deeper to see what else is out there. On the tours we've been lucky to be part of, the kids are really into the rockin' songs. For instance, for Relient K, every night on that tour kids were just screaming along to every word of every song. It was really neat to see that, from our perspective. It shows that, yeah, there's a hope for rock bands like us out there in Christian music."
For Oklahoma-based band Pillar, 2003 also brought growth. Its second Flicker Records album, "Fireproof," was licensed to MCA/Geffen Records for general market release, and the group headlined the "Underground Uprising Tour" with Disciple, Spoken and Kids in the Way. A new album is planned for this year on Flicker. Pillar bass player Kalel says he thinks part of rock's renewed vigor, at least in the Christian market, has to do with an increase in quality.
"There's always been a gap between mainstream and Christian rock," Kalel says. "In the last year, I've seen that gap getting smaller. There are a lot of new Christian bands out now that are, honestly, really good. I've seen a lot of new bands come up who've stepped it up, and I'm thinking, 'Wow, those bands are awesome.'" Prompted for names, he mentions Sanctus Real and Kids in the Way. But he adds that some established Christian rock bands have pushed to improve, too. "Now, any of the bands that have been around longer, like Skillet, are writing new stuff that's really stepped it up," he says. "I see older bands writing better and getting wise to the style that kids are liking today."
In fact, Skillet released "Collide" (Ardent), one of its hardest albums yet, during 2003. The album gained success on radio, topping the Christian rock charts for 10 weeks with "Savior"; and the band continues as one of the genre's top road warriors.
But no review of Christian rock's prime instigators would be complete without a mention of San Diego rockers P.O.D. In 2003, the group survived the loss of founding guitarist Marcos Curiel by adding former Living Sacrifice player Jason Truby. The result, the self-titled "Payable on Death" (Atlantic), quickly went gold; and the single "Will You" became a top 20 hit with a video that climbed to the top of MTV's "Total Request Live" ranks. In the spring, the band geared up for a major tour with Linkin Park and an appearance at the Cornerstone Festival this summer.
And then there was Evanescence, the Little Rock, Ark., goth-rock band whose we-are/we-are-not-Christian flip-flop turned out to be only a minor distraction on the way to selling more than three million albums and earning five Grammy nominations, including "Best New Artist."
Meanwhile, a host of established artists plied recording studios and concert halls. Starflyer 59 released "Old" (Tooth & Nail), one of its most acclaimed albums in years and geared up for not one but two releases in 2004. Plenty of others kept working: Stretch Arm Strong, Beloved, Demon Hunter, Norma Jean, Stavesacre, 12 Stones, Chevelle, Project 86, Living Sacrifice (which recently said farewell) and Dead Poetic, among them. Even Stryper returned from '80s hair-band oblivion to launch another yellow and black attack on stages. And Jars of Clay explored roots rock on its well-received "Who We Are Instead" (Essential). 
New artists also helped feed the freshness. They ranged from Neal Morse, whose 2-CD "Testimony" (Metal Blade) recalled rock classics like Genesis and Yes, to a host of bands on the Tooth & Nail label that explored rock, punk and emo. The Seattle-based label, in fact, was an industry leader in debuting artists, with Anberlin, Slow Coming Day, The Fighting Jacks, Pivitplex, FM Static and Seven Places bowing in 2003 to join its established artists, including Kutless and Thousand Foot Krutch.
The appeal? "Basically, most timeless records, in my opinion, are rock records," says Tooth & Nail founder Brandon Ebel. "A lot of people like real instruments playing music with great songs."
Worship that Rocks
But it's not just fresh new artists and established pros keeping rock's flame burning in Christian music. There's a deeper, spiritual connection found in the link between rock and worship.
In fact, rock, perhaps more than any other genre, fueled the modern worship movement. Beginning with bands like Delirious and Sonicflood – which either wrote aggressive worship songs or took established classics and rocked them out – worship in the late 1990s began taking on an edge. The success of Third Day's two "Offerings" (Essential) albums, the Newsboys' "Adoration" (Sparrow) and others cemented the fact that "worship that rocks" wasn't an oxymoron.
"I think what appeals to people and what appeals to me is there is a lot of passion," says Jeremy Camp, whose new "Carried Me: The Worship Project" (BEC) approaches worship with guitars cranked. "I can sing very aggressively – not in a bad way but aggressively where it's very passionate. I'm not saying you can't do that with an acoustic guitar or a piano. I'm just saying there's something about that driving sound, for me, where I can just go for it. I can scream if I need to, to the Lord." Camp, who's recording a new album for a fall release, says audiences increasingly connect with that passion.
"In the Old Testament, a lot of people used to dance," he says. "I'm not saying they danced to rock & roll; they used to dance to worship the Lord. And a lot of times with rock, it's, 'Yeah!' You know – jump up and down and really get into it."
Michael Tait, who, since the hiatus of dc talk has been focusing on his band Tait, agrees. "To me, rock, since its origin, has always been the most expressive platform to express everything: anger, political views, being upset with the parents, whatever it is," he says. "I think that in Christian music we've tamed it in some ways, but I think it has a place. When "Jesus Freak" (ForeFront) came out, to borrow from dc talk's past, it was very blatant, in your face. It was in true rock glory all that's bad and kickin,' but it had a message about being a freak for the Creator of the universe. Who's gonna argue that?"
Into the Future
It's impossible to predict where rock will be in a year or two, but indications are it will continue to push boundaries. More frequently, artists believe it needs to.
For example, the trend toward Christian artists who either break out of or bypass the traditional Nashville-based Christian industry is likely to continue as more general-market labels watch bands such as P.O.D., Switchfoot and Chevelle successfully span both worlds.
Consider a band like Duvall, fronted by the former leader of The Smoking Popes, Josh Caterer. After becoming a Christian, Caterer quit his band in 1999. When it came time for him to re-enter music, he decided to stay in the general market, even though his new band's 2003 debut album, "Volume & Density," clearly reflects Christian themes and includes the song "Jesus Never Leaves Me." "I never consciously decided I wanted to avoid the established Christian music scene; I just don't think the music I was creating was very well suited to that style," Caterer says.
"We started out just doing what we were doing and not really thinking that much about how it was going to be marketed or what group of people we were targeting. We just got up and started playing," he adds. "Most of [Christian] music has a certain sheen to it, and our stuff is a little more raw."
That sheen is something Michael Tait sees a need for rock to overcome – in and out of the Christian market – if it is to flourish.
"Rock, in general, … has become so polished and neat, almost like trying to fit a niche," he says. "That's been going on in music forever; it's like the tail's wagging the dog a lot. People aren't really expressing their heartfelt views. They're really wanting to just get played on radio and fit in as opposed to making a statement. To me, a lot of the great bands are bands who just fall outside the circle, outside the box, who do what they do; and everybody else comes along, or they don't. Those are the bands that make the big marks."
Tait also has some particularly pointed views of artists in the Christian market who he believes don't push hard enough to lead creatively. He says his band poured $250,000 into making "Lose This Life" (ForeFront), but other groups with access to that sort of budget don't take advantage of it. "I think a lot of the mentality in this industry is, "Oh, we're believers in God; let's write a nice little hook … and it doesn't have to be the greatest because we're doing it for God. And just as long as we say, 'God,' He'll honor it,'" he says. "Well, you know what? That's garbage. To me, man, it's all about being diligent. When Toby and I started dc talk in 1990, we coined this phrase for ourselves: If it's Christian, it ought to be better. The closer we get to the Creator, the more creative we should get."
Whether Christian rockers will meet the challenge remains to be seen. But one thing is almost certain: Rock itself isn't likely to fade away soon. "It doesn't matter how much technology happens; people are going to want to play instruments that are real and get up onstage and rock out," says Tooth & Nail's Ebel. "Rock & roll is here to stay."


© 2004 CCM Magazine.  All rights reserved.  Used with permission.  Click here to subscribe.