Refreshing Sounds in The Way We Worship
Amy Hauck

Contributing Writer

2012

21 Nov

COMMENTS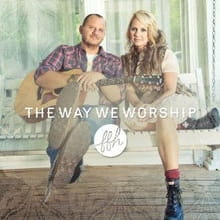 Artist: FFH
Album: The Way We Worship
Label: Provident
Worship leaders + artists + missionaries + parents + teachers + God lovers + Pastors = husband and wife duo Far From Home (FFH). I know what you're thinking; that is a lot of hat wearing – yet somehow they seem to pull it off with grace, honesty, and beautiful music. After their band downsized in 2010 Jeromy and Jennifer Deibler took on a decidedly different sound than the FFH that many knew for years.
Thus, their latest collection of tunes found its voice in, The Way We Worship, a finely woven musical quilt of old favorites and original creations. Birthed out of a season of leading worship at their home church in Franklin, this duet recorded their first worship album after two decades of making music together. Once I hit play I knew my eardrums (and my heart) were in for a treat.
This couple brings a wonderful blend to the musical forefront with a mix of both acoustic and electric sounds, interlaced with harmonies that can only come from years of singing together. Jennifer leads the majority of the songs on this record with her earthy, pure, and unreservedly pleasing vocals, while Jeromy accentuates well and leads with conviction and talent.
The Way We Worship is a collection that demonstrates worship through the diversity of sound, the infallible message, and approachable nature of it all. Listening to this project left me feeling tenderhearted and wanting to hear more. Musically, the songs that Jennifer leads have a stripped down, nuanced feel with acoustic guitar and dashes of mandolin, chimes, bells, and banjo. Alternately, Jeromy's contrast well as more driven and charged with electric guitar.
Interestingly, this project begins with one of the two "One Sonic Society" covers in this collection: the Psalm-like melody "Always" which cries, "I lift my eyes up, my help comes from the Lord" (the other is "As For Me"). This move alone says a lot about their intent for this album – the spotlight is not on them. The rest of the album follows as a wonderful assortment of hymns and modern worship melodies that serve as a fusion between generations and reflect the miscellany of the modern church well. Particularly of note: "In the Garden," "Jesus, Name Above All Names," "I'm Coming Home," and "What A Friend We Have in Jesus." This album is utterly refreshing and will likely lead listeners of all ages and backgrounds right where the Diebler's want them: at the feet of Jesus.
*This Review First Published 11/21/2012