Themes of Hurt, Healing Covered on "Cut & Move"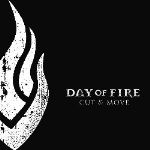 Artist:  Day of Fire
Title:  "Cut & Move"
Label:   Essential Records
Josh Brown means business. After winning 2005's GMA Music Award for "Rock Album of the Year" with his band's eponymous debut, Brown sounds more confident and – if it's possible – more urgent on Day of Fire's sophomore release, "Cut & Move."
Having experienced the personal apocalypses of addiction and near self-destruction, Brown knows what it feels like to hit life's bottom, to know alienation and hurt, to experience the "wages of sin." But he also has an intimate experience of God's astounding, life-changing grace.
Those are the two polarities at the heart of the gritty rock songs that make up Brown's second tract, aimed toward those who have experienced only the hurt and not the healing. In that regard, Brown taps standing themes at the heart of early evangelically-motivated veteran Christian rockers, going back to Larry Norman and Randy Stonehill, whose classic "Keep Me Runnin'" is called to mind in Day of Fire's "Run."
It's probably no accident that the first half of the disc climaxes with "Regret," but it ends with the promise of "Reborn." In the title track, he cries for relief when he begs for someone to "show me the way out of this hole." Life apart from God's love is some "twisted dream," but, as he sings in the anthemic "When the Light," in God's presence, we find we are not alone.
Brown's former mainstream band, Full Devil Jacket, managed to tour in opening slots for Creed and Nickelback. Clearly, he's learned the lessons of their success, creating maximum guitar crunch but not forgetting that songs that connect need a melodic hook. At times, Day of Fire can be similarly overwrought and musically predictable, two qualities that rock crowds have never found to be too much of a problem. More of these tracks could use the solo guitar heroics of "Frustrating," but, generally, "Cut & Move" delivers the authentic goods.
While at times, Day of Fire appears to lack originality, it is assuring that the band rocks solid with enough passionate energy to carry the message that "you can find freedom, you can be safe." For Brown, the chaotic world becomes manageable "when the light shines on my face"; when things get complicated, he sings God's song "inside my head." That's an experience he's desperate to share with others.


© 2006 CCM Magazine.  All rights reserved.  Used with permission.   Click here to subscribe.