Thi'sl Tells his Story in Fallen King
Ed Cardinal

Crosswalk.com Contributing Writer

2014

9 Jun

COMMENTS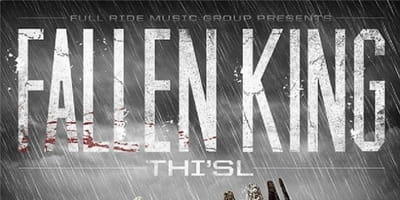 Artist: Thi'sl
Title: Fallen King
Label: Full Ride Music Group

Even if gospel gangster rap weren't such a micro-genre, there's a good chance that St. Louis "ex-hustler turned urban missionary" Thi'sl—maybe you heard him on Lecrae's Rehab—would still rise to the top of the scene. He's the real deal all around, a creative rhyme-smith and hook finder who was expelled from school for carrying a weapon at 13, got into hard drugs at 18, and later experienced a spiritual rebirth in the senseless death of a loved one.

"I seen my cousin take a bullet right there / blood on the ground, body choked out right there," he spits on the bell-ringing "Chicago-Detroit," one of several standout tracks from his third album, Fallen King. The cut's catchy refrain sounds like a round of ammunition yet somehow elicits hope. "King of the Trap" has a similar form; trunk-thumping bass and a lawn sprinkler beat carry Thi'sl's menacing growl, but the lyrics offer light: "Planting churches in the hood / in the projects where they'll know that Jesus' good."

The heaviness further lifts as Thi'sl plays his R&B cards next with winning results. "Keep Grinding" is a soulful, summery ode to faithful family men, name-checking Bill Cosby's Cliff Huxtable. "Inside Out" smoothly celebrates women for their true inner beauty, urging ladies not to compare themselves to Beyonce and Kim Kardashian as the media would like. And "Dream Team" definitely has game, taking a clever look at how having a band of Christian brothers is better than winning the NBA championship.

Tying everything together, a conceptual thread runs through Fallen King about the fallacy of so-called "OG-ology" referenced on the danceable opener "King without a Crown." Consistently, Thi'sl reminds listeners to throw their worldly crowns at God's feet especially on the gritty, emotional "Take My Life"—which boasts all of mainstream hip-hop's intensity and hot guest emcee flows with none of the cursing—and the refreshingly different title song, a floating highlight featuring Lorde-like vocalist Marz.

Finally, "Be King" speaks in a language everyone can understand. "I've tried it all on my own / tried to build my kingdom separate from Your own / my reign was short, didn't last that long / I'm on my knees and I'm crawling home." Fallen King can rattle the car windows and soothe the soul at once. Rap fans across the board should pick it up and go for a fun, faith-strengthening ride.
*Published 6/9/2014