Third Day's Second Chronology Continues High Quality
Kevan Breitinger

CMCentral.com

2007

16 Aug

COMMENTS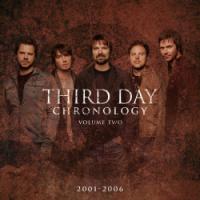 Artist: Third Day
Title: Chronology, Volume Two (2001-2006)
Label: Essential Records
A sign of Essential's commitment to Third Day and their fans is the continued high quality of Volume Two, following the very satisfying first installment, Chronology, Volume One (1996-2000). Actually, as was mentioned in the first review, Third Day is one band worthy of this level of artistic commitment, and fans can count on another rewarding experience here.
The second compilation is similar in quality to the first, with many tracks newly remixed; once again, the guitars are glorious throughout. The 18-track audio disc features many of the rockers' biggest hits, including the bouncy "I Believe," an organ-enhanced "Come Together," and the howling "Nothing Compares." The vocals have been brought out front, standing out especially on the beautifully-mixed "Show Me Your Glory." There are five live tracks this time around, two from 2002 (Philadelphia and Portland), and three overflowing with hometown excitement (Atlanta, 2006). "God of Wonders" showcases Mac Powell's connection with the crowd, leading both band and audience into exuberant worship. Plaintive ballad "Cry Out to Jesus" is expressively delivered, but when it's time to rock out, Rich Mullins' "Creed" kicks up the energy level, and the crowd is right there with them.
Also worth mentioning is "Carry Me Home," a rare inclusion from a 2001 EP, and surprisingly, a piano-driven, rootsy "Movin' On Up," with full choir, from the Second Chance movie soundtrack. The bouncy rocker is surprisingly soulful, and the choir doesn't hurt either.
The second disc is a DVD offers up a video montage for "Tunnel" from Wherever You Are and bootleg performances in venues as varied as a Tulsa coffeehouse to sold-out high energy hometown shows in Atlanta. Home movie clips from the band are once again included, as are commentaries from some of the band's biggest fans, which may not be of interest to all viewers. What will appeal to most is an hour-long, in-depth documentary chronicling ten years of life on the road with one of Christian music's most popular bands, director Paul Reeves' attempt to show the totality of Third Day's amazing journey. It is pretty comprehensive, and together this package should bring fans to the point of satiation, while giving any neophyte a thorough introduction to the sometimes Alice-in-Wonderland perspective of the Christian music industry.
© 2007 CMCentral.com. All rights reserved. Used with permission.



Visit CMCentral.com now and join the single largest online community of Christian music fans on the internet. CMCentral features daily music news, exclusive interviews, album reviews, weekly devotions and feature articles written by some of your favorite Christian artists, and much more. CMCentral is also the home of the most popular Forum for Christian music fans that you'll find anywhere on the Internet. Come see what all the buzz is about!