Third Day Back to Rock & Roll Heyday on "Wire"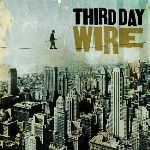 Artist: Third Day
Label: Essential
Years ago the classic punk group Wire released an album called "Third Day," so why shouldn't Third Day release an album called "Wire"? Still, Third Day's latest could just as easily be called "Wired," as it appears the band finally rediscovered the amped-up rock & roll rush of its past.
After releasing three rock albums in its first four years, Third Day crossed the Y2K dateline with mellower music in mind. The new decade's work produced two worship albums and the mid-tempo "Come Together"; and while the band earned gold plaques for each, the albums took the band even further from its rock roots. With "Wire" these Peach State superstars show they can still make an electric guitar squeal.
Fans coughing up the coin will enjoy Atlanta-sized rockers like "I Got a Feeling," "Rock Star" and "Billy Brown." The album's clear standout, "'Til the Day I Die," actually features the band's heaviest guitar riffs in years, balanced out with acoustic drops for a stunning tempo-driven exchange. "Come on Back to Me" utilizes similar dynamics with a strong musical start paired with partly subdued vocals that kick it up on the chorus. While "Wire" won't inspire "mosh" pits any time soon, the album does deliver a choice handful of southern fried rockers capable of recruiting younger fans to the Third Day caravan.
Of course, "Wire" also doesn't shun the pop-rock formulas that earned Third Day 20 No. 1 singles and enough Dove Awards to fill a city zoo. Beautifully crafted songs such as "I Believe," "It's a Shame" and "Blind" (featuring Dave Matthews Band violinist Boyd Tinsley) deliver a fair dose of energy without the sharp rock edges, while the title track finds its favor in a dramatic chorus ripe with poetic symbolism and catchy inflections. The tracks "Innocent" and "You Are Mine" also give the album an offering of worship, while "I Will Hold My Head High" finds its voice in a distraught-sounding appeal for hope.
While Third Day recruits producer Paul Ebersold (3 Doors Down, Skillet) and the mix of studio great Brendan O'Brien (Aerosmith, Limp Bizkit) for its rock return, interestingly, the new producer and the album's mainstream rock style coincide with a recent contract extension with Provident. Putting the pieces together, it seems obvious that the fresh legal ink came with a new label commitment to cross Third Day over into the general market. Should the band be taking a toss of the mainstream dice, "Wire" is clearly its best chance at avoiding snake eyes.
Listen to Third Day music videos at Godtube.com.

© 2004 CCM Magazine. All rights reserved. Used with permission. Click here to subscribe.