Third Day Delivers on First Part of Chronology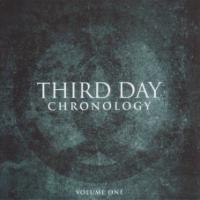 Artist: Third Day
Title: Chronology, Volume One (1996-2000) (CD/DVD)
Label: Essential
Third Day's 1996 debut album caught Christian music by surprise during an era dominated by pop singers, ballad-crooning foursomes and emerging acoustic acts.
Commend the earthy Atlanta rockers for continuing to break the mold, shattering the standard "greatest hits" marketing scheme and offering fresh twists on songs we love. At the same time, give props to Essential Records for its marketing savvy in packaging all this great music, video and commentary into a two-fold rollout that producers of the Matrix trilogy would appreciate.
Chronology, Volume One spans the inaugural five years and first four albums of one of the past decade's most successful acts (i.e., six million albums sold, a couple dozen Dove and GRAMMY® Awards, 24 No. 1 singles). Its sequel is due to drop August 7. This initial two-disc (CD and DVD) set features 17 audio tracks; five music videos; six Dove Awards concert performances; and eight "bootleg" videos providing great fly-on-the-wall moments that help viewers to more deeply understand the five men behind the music.
Among the CD highlights are new mixes of standards such as "Nothing at All," "Consuming Fire" and the riveting "Thief," as well as live versions of "Blackbird" and "Alien." Two cuts from a 1999 EP Southern Tracks, "Long Time Comin'" and "She Sings in Riddles," add a nice surprise to the collection.
Pleasant surprises continue on the DVD. The "bootleg" videos date as far back as 1992 amid small church audiences, unveiling a Mac Powell voice that was at least an octave higher and the debut Third Day performances of Tai Anderson and David Carr. These clips and the music videos feature the band members in silhouette, commenting on their memories of the performances, rationale for specific shots and the logic of certain fashion choices. These clips expose the band's roots; they represent an extra seat on the tour bus as the members reminisce on the journey of a potent music ministry. Extensive historical liner notes and photography further round out the experience of this project.
The cumulative outcome of all this material is a hearty meal that even the peripheral Third Day enthusiast will consume. And, delightfully, a second serving remains on the 2007 menu, with a 10-year video documentary tagged as one of the entrees.





© 2007 CCM Magazine. All rights reserved. Used with permission. Click here to subscribe.