Third Day, Sixpence, and Ceili Rain - Feb 21 News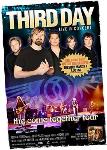 "THANK YOU…GOOD NIGHT!" – If you spend time in Los Angeles, Dallas, Houston, Seattle, Denver, Atlanta, Minneapolis, Grand Rapids, or Knoxville, you might get to hear Third Day greet and bid adieu on a 40-foot screen in a movie theatre near you at 7:00 p.m. (ET/CT/MT/PT) on Tuesday, March 4, 2003.  What's being billed as the "first-of-its-kind digitally distributed cinema concert and album premier event" is actually a special filmed presentation of "Third Day, Live in Concert:  The Come Together Tour".  As one the most successful tours in Christian music history, the spring/fall 2002 tour made stops in 76 cities nationwide and gave 300,000 fans the op to see Third Day perform their special brand of worship with a Southern rock twist.  The follow-up recording, Offerings II:  All I Have to Give, releases the same day and will be available for purchase at the participating theatres in the cities listed above (that's the album premier part of the event).  Be one of the first 300 to buy a disc and get a Third Day poster to put wherever you please.  For tix info, go to www.fandango.com or www.moviefone.com.  For more Third Day info, go to www.thirdday.com or www.thirddaymovie.com.

A SIXPENCE FOR SABRINA – If you're keen on The WB and so inclined to turn on the tube on a Friday eve, tune in to "Sabrina the Teenage Witch" tonight at 8:30 E.T./7:30 C.T.  Sixpence None the Richer will perform from their newest CD, Divine Discontent, on this partic episode, which includes Sabrina playing "Cyrano" in her attempt to tell Aaron that she loves him.  But here's the real question:   will there be a prosthetic nose involved?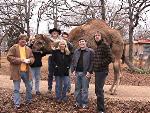 THOSE CRAZY CHRISTIAN RADIO HOSTS – Well, you just never know just who or what you'll run into these days during a Christian radio interview, right?  Cross Driven Records Celt/pop/rock band Ceili Rain met a "friendly" camel after an interview and jam session on K-LOVE's morning program which is taped at hosts Jon and Sherry Rivers' ranch, just outside of Dallas, Tex.  Band members Chris Eddy, Susie Grimsland, Skip Cleavinger, Daniel Monick, and Bob Halligan, Jr. performed music from their latest project, No You-No Me.  No word on whether the camel liked track no. 2 or not….