Third Day Stays a Little Too Static on Move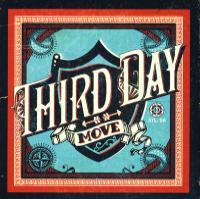 Artist: Third Day
Title: Move
Label: Essential

The funny thing about the title of Move, the new offering from Third Day, is that the album doesn't. Move, that is. The title implies change, but on studio release #11, the Atlanta rockers remain firmly in their comfort zone, pumping out earnest, anthemic rock with a heavily evangelistic bent.

Forget subtlety, this album is a beaches-of-Normandy assault on the searching soul, with six of the album's 12 tracks titled as verbs in the imperative mood, among them "Surrender," and "Trust in Jesus." Move is pretty much a one-note album thematically, but it's a note from which the quartet wrings every ounce of sincerity. As always, Third Day plays to its strengths—Mac Powell's gorgeously evocative baritone, Mark Lee's muscular guitar, and an understated rhythm section—to craft accessible, interesting country rock. When it clicks, the result is arm-hair-raising good. Move, unfortunately, doesn't produce that reaction often enough.

That's not say this is entirely a ho-hum affair. Lead single "Lift up Your Face" is a classic Third Day rocker in the vein of "Consuming Fire," with Powell shifting successfully into falsetto on the second verse. And "Make Your Move" is propelled by a thudding kick drum. Both are tightly-constructed songs which evince a veteran band with a clear sense of identity. Also successful is the country rocker "I'll Be Your Miracle," with Powell channeling Darius Rucker, and the church anthem "Children of God," with its sing-along chorus and contrapuntal children's choir. Things get more anonymous in between. Powell's lyrics are so universally-phrased that things occasionally border on hackneyed. (The chorus of album closer "Don't Give up Hope:" "Don't give up faith, don't give up hope, there's always something better, waiting around the corner"). And "Follow Me There" flirts with a gospel call-and-response on the verses, but the chorus disappoints ("Where love like a river flows, peace like you've never known, joy never-ending…"). We're not asking for Steve Taylor wordplay, but slightly cleverer phrasing would be more meaningful.

Many longtime fans will probably lap this stuff up, but after 2008's Revelation, which was, frankly, a revelation about Third Day's revitalized artistry, we expect more. That album dipped into more personal territory lyrically, and through collaborations with sound-stretching artists like Robert Randolph and Lacey Mosley, tinkered with the band's formula enough to prove relevant. Move feels a little too safe, or, said another way, a little too static.


**This review first published on October 19, 2010.