Third Day: Where They Are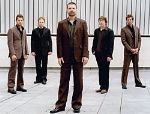 When the men in Third Day were holed up in Atlanta, toiling for six months on their eighth studio album, they weren't trying to make a grand statement – they just wanted to make some good songs. But sometimes God decides to invade the process and take a work places the artist never imagined.
Rarely is there more conspicuous proof than in Third Day's new album, "Wherever You Are" (Essential), Or the album's first single, "Cry Out to Jesus."
Cry for Help
In the days following the disaster of Hurricane Katrina, "Cry Out to Jesus" became a rallying cry – both for people whose lives had been devastated and for witnesses of the disaster's aftermath who sought comfort. And here's the kicker:  It was not even supposed to be released as a single yet. The album was not even finished.
But back in August, when radio promoters heard early clips of the song, they clamored for Essential Records to release it early as an anthem of hope for those displaced by the hurricane. "The label came and asked if we would give this song away," says bass player Tai Anderson. "We were floored. We said, 'Go for it.'"
The label rushed the single out to radio in several formats ranging from an instrumental track to versions with media clips mixed in. It also offered the song free of charge to churches and ministries who wanted to use the song for outreach purposes. "Cry Out to Jesus" soon became the anchor to many relief effort campaigns and at press time had already reached No. 3 on the Christian AC airplay chart.
The band also sprang into action at its very next concert, in Kansas City. "The promoters of the show let us kind of shake things up," Anderson says. "We threw out to the audience in Kansas City, 'We're going to make a donation tonight of $10,000 to World Vision Disaster Relief Fund. You guys reach into your pockets and, instead of buying some cotton candy, throw some money into the KFC buckets in the back of the room.' That night, the audience raised $13,500."
Incredible, but the next night, at a festival in South Dakota, the promoters there also gave Third Day free rein to make a similar pitch. "So we took up an offering," Anderson says. "Again we said, 'As a band we'll get it started. We'll throw in $10,000. You guys match.'" The audience that night raised $28,000.
"We actually went ahead and said that the band's going to do what we can, too. So we matched what our fans did at the shows," Anderson says. "It's really cool. Before we even had time to figure it out, the Third Day community raised $82,000."
Even following that initial whirlwind of giving from Third Day fans, the band continued to do what it could. It was already offering "Cry Out to Jesus" as a free download on thirdday.com. But then the guys decided to go the next step, using the single to raise money for World Vision's Gulf Coast relief fund. "Our whole team worked so quickly to get this to happen," Anderson says. "We felt like we needed to match what the label has done in saying people can have the song for free … so we donated one dollar for every separate individual – up to 50,000 people – who downloaded this song."
A Soundtrack for Our Times
Whereas a single such as "Cry Out to Jesus" would have been timely enough, what is all the more uncanny is that the entirety of "Wherever You Are" is infused with a solid message, delivered in the band's trademark Southern-influenced, American rock style. From the rocker "Tunnel" and the U2-inflected "I Can Feel It" to the worshipful "Communion" and the dramatic "Carry My Cross," every song – each a gem in its own right – connects to a greater whole.
"We have a lot of songs with a message of hope and encouragement we're trying to get across with this record," says guitarist Mark Lee. It's obvious these themes were supposed to be on this album. Right?
But to hear the members of the band tell it, they never set out to make a concept record. They just wanted to go in a different direction after 2004's "Wire," which has sold almost 430,000 copies according to Nielsen SoundScan. "With the 'Wire' record, we had a specific audience in mind," Anderson says. "Although we crafted the concept behind the record to challenge the audience we speak to, many of the songs were specifically targeted to appeal to the unchurched."
So when working on "Wherever You Are," which released Nov. 1, there was a conscious decision not to simply make a 'Wire II.' "With Wire it felt to us – we're hyper-sensitive about it – it was a successful record, a GRAMMY-winning record and a successful tour, all of these things," Anderson says. "However, there was an element with 'Wire' that was divisive among our fans. 'Wire' was telling the gospel story but in a vocabulary you don't have to be a Christian to get. But that's not what everybody wants in Christian music. For a lot of people, the whole reason they like Christian music is because it's a different vocabulary. It's a Christian vocabulary. That's why they like it. So there are some people 'Wire' really rubbed the wrong way."
Thus, as the band was touring, it was listening – and paying attention – to what fans wanted. "We're very fan-conscious," Anderson says. "Even though it would sound a lot cooler in interviews to say, 'This is what we're doing, and everyone can just deal with it,' that's not who we are. We're making music for people to hear. It's not for ourselves. So we want to make music for those fans who enjoy it but maybe didn't get 'Wire.' At the same time, we were very conscious that we didn't want to retreat from this message that we had in 'Wire.'"
However, even as they were making a back-to-the-basics record, they didn't plan to make it stick together as a thematic package. The separate songwriters in the group just pooled their best songs together and were as surprised as anybody to see a pattern emerge.
"At the risk of sounding cheesy, it's really a God thing," says lead vocalist Mac Powell. "We didn't talk about what the new songs would be about. We didn't sit down and go, 'We need to write a record about hope.' We just had a bunch of songs. My mentor asked me, 'What's the record about?' I was like, 'Man, I don't know. We've got a bunch of songs. Why does it have to be about something?'
"Then as we started looking at all these songs, it was so clear that the message was about hope. It's a message that I believe our country needs to hear right now with everything that's going on in the Gulf Coast and even in the rest of world. So it's a message of hope, and we're excited about people hearing it. We're hoping that it encourages people."
In many ways, the message of the record is a result of maturity. These guys have been together as Third Day,  working shoulder-to-shoulder, recording, touring, the whole deal, since 1995. To add to that, these are men who have grown up and are entering a different stage of their personal lives.
"I've lost quite a few family members this year," says bassist Brad Avery. "And I've had friends who have gone through a lot of loss, whether that be members of a family or through divorce or other things like that. So [as a songwriter] I really wanted to encourage myself, my family and my friends that this is not our home. But this is where we are right now. With all the things that go on in life – the good and the bad, the joy and the sadness, and all the things that we endure in what is called life – we can rise above through the power of Christ."
"There are so many songs on this record that talk about ourselves or friends or family members going through a hard time," Powell adds, "and yet we understand that we still have a Father in heaven who loves us no matter what we're going through and wants to hold on to us and help us through that hard time."
Anderson says Third Day is still affirming the same truths it did when the band started out. "But I feel like there's so much more empathy and compassion," he adds. "When you're 19 and 20 as a Christian, you're going to a wedding every weekend. There's this kind of excitement, like we'll conquer the world.
"You get to be in your older 20s and early 30s and … those weddings that you went to, you're now testifying in their divorces. Life just gets a lot harder."
Taking these experiences in stride, it was drummer David Carr who actually named the record. He said that during the process, as the various members of the group were making lists of potential album titles, they had agreed they wanted to stay away from any one song title. They wanted, instead, to find some phrase that would capture the entire record.
Carr found the answer when he pulled the title from a phrase in "Cry Out to Jesus," and the others quickly agreed with him. "Wherever you are, whatever you are going through, God is ready to meet you right there," Carr says. "There is hope."
The band took time over six months to record "Wherever You Are" in Atlanta's Southern Tracks Studio, emerging for spot dates and to accept its second GRAMMY Award for "Wire" in Los Angeles in February. The members wrote all the songs and produced half of the album; the other half was produced by Brown Bannister (Amy Grant, The Afters).
"We have always loved his work," Powell says of the veteran producer. "It was so great to be able to work with him."
As for producing the other half of the record themselves, the members of Third Day had been eager to try something like this for a while. "We were scared we were going to just pull each other's hair out, just get in fist fights and stuff over the music," Powell says. "But we really had a great time doing it. I think we worked together on this record more than any we've ever done."
The five have always worked together on the songs, of course, but this was a level of fine-tuning above and beyond anything they had ever tried in the past. "In fact, we recorded the whole record before we made our record," Powell says. "We recorded every song, listened to it and lived with it for a while just to kind of see what we needed to do and how we could make these songs better, to really make the best record that we possibly could."
"These days people have short attention spans, so they only make it through three or four songs," says Avery. "But we like to make albums. We like our records to say something all the way through."
Musically, the entire record does an excellent job of covering all the bases for a Third Day fan: There are full-on rockers, matched with dramatic songs that wrestle with darkness and worship songs that point toward the Light. It's not a hodgepodge, by any means, but a seamless synthesis of the various stylings the band has recorded in the past.
"Over the last few years," Lee says, "It has been mildly annoying that every time we work on something we get asked, 'Is this a rock record or a worship record?' We never saw the two as enemies of each other."
Big Time/Big Deal
In the past 10 years or so, Third Day has risen from a band of unknowns playing for an audience of a dozen to one of the preeminent artists in contemporary Christian music. Look at the stats:  23 Dove Awards, two GRAMMY Awards, multiple ASCAP honors, an American Music Award, 21 No. 1 radio singles, and sales of more than five million albums. (Third Day's 2000 release, "Offerings: A Worship Album," has sold almost 900,000 copies alone.)
Third Day is one of the most successful touring units in Christian music, developing a ground-breaking partnership with Chevrolet and ranking twice on touring magazine Pollstar's "Top 100 Tours of 2002" list, and an audience of more than one million on the "Live Wire Tour," claiming a spot on Pollstar's Top 100 in 2004. The band has been seen and heard on "The Tonight Show with Jay Leno" and "60 Minutes" and read about in the pages of People, USA Today and Newsweek.
But despite all the accolades, all the media attention, the members of Third Day stay grounded. They continue to serve — long before recent events in the news, they have supported Habitat for Humanity, The One Campaign to make extreme poverty history and World Vision's Hope Child initiative.
And they continue to rock, creating and playing music with a palpable sense of passion that sweeps up listeners and concertgoers alike.
What keeps them going? How do they not get jaded?
"I think what keeps us from being [jaded] is just seeing how blessed we are to be able to do this for a living," Powell says. "We look at a lot of our friends who have 'real jobs,' where it's not a 9-to-5 but really like a 6:30-to-6:30 kind of job, being in traffic two hours a day. [On the other hand] this is something we love to do."
However, he says, there are still negative sides to the equation. "We're away from our families a lot. We're gone from church a lot."
But, they say, overall, what they do is still fun. "It's a lot of fun to be in front of a different audience every night," Powell adds.
"There is definitely a privilege to it," Anderson says. "Making music is pretty tedious — it's a long, hard process. But there is that point in a record when you're through all the logistics, and it just starts to fit, when it's that five-for-five feeling. There's just a point where you've put it in, and you're going, 'This is really good.'"
"Now there are times when, doing the same songs and the same set over and over, it is easy to get to this place where it's not new every night," Powell concludes. "We have to remind ourselves every night that just because we've done these songs in front of 5,000 people in Cleveland, the next night in Columbus those 5,000 may look the same; but they're not the same. Those are different people. I think every day brings a new challenge. Every new person we talk to, there is a new challenge. That makes it fresh for us."




© 2005 CCM Magazine.  All rights reserved.  Used with permission.   Click here to subscribe.