Third Day's New Way: Conspiracy or Calling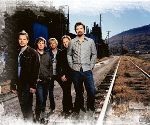 The timeline for this story began April 8, 2004, in Monroe, La., the site of the second show on the spring leg of Third Day's 85-date tour. It's an interesting time to launch a tour, seeing as how the band abstained from major touring in support  of its last release, "Offerings II: All I Have to Give," and how its new one, "Wire" (Provident Label Group), drops in the middle of the first leg of this tour. Conventional wisdom would say it's too early to properly capitalize on the energy of the new album and much too late to support the last one.
But this is a band that does things on its own terms; and, despite the reasons to scratch one's head over strategy, this group of road dogs has climbed on the bus once again to bring its unique blend of Southern rock and passionate worship to its loyal base of fans. This time around the band (along with opening acts Warren Barfield and tobyMac) has provided an option not seen at many ticketed Christian concerts: an open floor or area near the stage sold at general admission, allowing more fervent (and usually younger) fans to stand throughout the show for a closer view, while the more staid can purchase reserved seating around the periphery.
It's an idea inspired by U2's "Elevation" tour, where the inner "heart" provided this opportunity for die-hard fans of the Irish rockers without the high ticket prices normally associated with such close seats. And though it's only show number two, front man Mac Powell seems pleased already.
"Yeah … it felt really good last night, and whether that was due to having the energy from the kids up front or because the tour itself is happening at an interesting time, it was great. This isn't really a record tour per se — although we are debuting some of the songs from "Wire" — but we're really just playing the songs we want to play, without any other big agenda. It's almost like a 'greatest hits' tour, really."
As he will do many times during the course of this interview, bass player Tai Anderson jumps in to continue Powell's thought. It's a symbiotic relationship that Anderson seems to share with all the members of Third Day.
"I feel like this tour is kind of a transition because I think this new album may represent a new era for us. The records that Monroe Jones (Ginny Owens, Chris Rice) produced with us — from "Time" through "Offerings II" — built upon each other musically and thematically and formed both a real, key sound for the band on record and a dialogue with our audience that we had never experienced before. We wanted to put a tour together that shows appreciation for our fans by playing all their favorites and inviting them to come along with us on the next leg of our journey with 'Wire.'"
It may sound silly to some today to speak of a "relationship" between a recording artist or band and the fans who embrace its music. In an era where an artist's most seemingly loyal fans can abandon the object of their most ardent attention at the sight of a new and repugnant haircut, Third Day's fan base has been growing steadily and impressively over its 11-year career. The band has become the most successful touring outfit in Christian music (save Bill Gaither's "Homecoming" tours), seen by a combined audience of more than 750,000 on its last major outing in 2002.
Asked what they think about the fickle nature of today's fans, Anderson is quick and careful not to use music downloaders as a scapegoat … for this problem, anyway.
"I know that downloading is now being blamed for all the problems in the music business, and I don't want to discount the importance of that issue; but I think the larger issue is that there is so much more that competes with music for the attentions of a young audience. Now," he continues, "you have DVDs and video games and the Internet and whatever else people do to entertain themselves. The days of sitting and listening to music are almost a thing of the past."
As Powell recalls, "One of our favorite things to do used to be what we called a 'back lounge party,' where we basically turned the lights down, put the music on and fell asleep listening to records. Now no one even wants to come over and 'just listen to music.' We still like to do that."
So when Anderson speaks of inviting band fans to "come along … on the next leg of the journey," the invitation couldn't be more heartfelt — or important. With the three-peat success of "Come Together," sandwiched by the band's two "Offerings" worship collections, expectations were high from fans and industry executives alike for Third Day's next studio album. It's the kind of thing that can raise your game or make you crazy, as Powell explains.
"After the release of our third album ["Time"], there was a real pressure that the next one had to be better; and I started putting more pressure on myself than I needed to. And I thought, 'At what point does a major artist like Elton John or whoever say, 'This record I'm making may not be the best record I've ever made, but it's the record I'm making now; and I like it.'" At what point do you get to do that? Never again am I going to say, 'This is the best record we've ever made.' I said that when 'Come Together' was released and believed it at the time, but I've learned you always feel that way about the one you're working on because you're invested in it."
All of which is a cautious way of saying what all the Third Day boys were dying to say but feeling too close for comfort to do so: "Wire" is the record of this band's career thus far. This is the one the fans would take to the deserted island if they had to choose one. This is the one that will still sound really good 10-15 years from now. This is the one the band wants — and deserves — respect for from the music industry at large. Those are this writer's opinions, of course, and only time will tell; but as for the respect … that will be apparent sooner than later, with any luck.
The buzz on the street about "Wire" is that Third Day's record company and its larger general-market owner may believe some of the same things about this record and are committed to running it up a mainstream flagpole to see if anyone may care to salute it. When drummer David Carr tells how the band "really focused on this new music easily twice as hard as we have ever worked on a record before," I invoked the dreaded "c" phrase and asked if that effort came out of a conscious decision to make an album that had the potential to "cross over" into the pop market.
"You know, when you're a young band, the thought of any label embracing you or putting you on tour at all is exciting," Anderson says, "But when you start dreaming bigger dreams, you kind of have to be careful what you pray for because it might come true. If we were to have a single that blew up on mainstream radio, it could change the dynamics of everything we do. We have come to appreciate our fan base, and we're certainly not going to sell out our beliefs to get a single on the radio.
"The thing is," Anderson continues, "if we were to have a hit record, it would be in the context of everything else we've done as Third Day; and we aren't going to turn our backs on everyone who's helped us get this far. For us, our challenge isn't to adjust the content to reach a wider audience but to raise the quality to such an extent — and communicate in a vocabulary that is accessible to people outside the church subculture — that more people will be drawn in.
"I feel like this is the most personal record we've ever done — especially in some of the lyrics Mac and Mark [Lee] have written — but I'm amazed at how powerful some of those words are for me to listen to. I think they will speak to others, too, as much as any worship song we've ever done."
This Time It's Personal
"What I have found in my experience is if you are writing from a very personal place and are honest with that process, those songs end up being the ones that connect with people so much more than those written with a certain objective or audience in mind," guitarist Mark Lee offers.
"See, one of the things that's hard about doing this in the Christian music field," Powell interjects, "is when interviewers or record company people want you to explain every song for them, and I think it really hurts the songs to do that. There are going to be songs that people will get different meanings for themselves than what Mark or I intended when we wrote it, and that is so much better than me telling them what to think about it from my perspective."
OK. So much for my questions about "It's a Shame" and "San Anselmo," two songs from "Wire" that are, indeed, more personal than most lyrics that make it onto Christian albums. But the point is well taken; and, as I think about it, those are likely to be two of the songs that might have a chance in the mainstream pop arena, along with "Until the Day I Die." Someone in the Christian press will no doubt ask the "meaning" of those songs, but that won't happen today. Good for Third Day for including those songs and for not wanting to explain them. We'll see how long they get away with that.
"It's funny," Powell continues,  "I'm a huge Adam Again fan [Powell sang AA's "I Remember You" on the "City on a Hill" project], and I used to get mad when Gene Eugene would say that he would just make up lyrics and then later on would figure out what they meant. I used to think, 'Man, that's just stupid. Why would you do that?' but I have come to realize that I do that, too. Even in my own therapy of writing, I'll write something I really don't understand myself; but, later, it will become clear."
"I would add to that," says Anderson, "that when you're speaking from the stage as well as what you sing in the songs, the personal means so much more than the platitudes. When my pastor shares a story from his life and family and relates it to the Scriptures he is preaching from, it is so much more powerful for me than anything else he could say on an academic or theological level. That's what I feel like Mac and Mark did with some of the lyrics on this album, and I hope Third Day — and Mac in particular — can go to that place that feels free enough to trust an audience to be that personal.
"When I saw U2 the second time on the 'Elevation' tour, Bono was talking about the song 'Kite' and his father's passing away just about eight weeks before. Because I camped out all day to get inside the 'heart area,' I'm watching this tear roll down his cheek as he sings this song in memory of his father, and it was one of the most special moments I have ever witnessed."
"The church is really in need of that kind of reality," says Carr. "We get together, and we have Bible studies and study groups; and it's all good stuff. But if the purpose is just to increase our knowledge of biblical history and not to get to the heart of what God is trying to say to us through these characters and stories, it's all just religion to me. That doesn't really connect with me, and I don't think it really connects for most people. Same thing goes for our music. If the goal is not to really connect to people's real lives, then I think it's just religious fluff."
Lee, who speaks less often than the rest, comes back into the discussion. (Fellow guitarist Brad Avery, for the record, is out playing golf this afternoon.) "It's so easy within the confines of the church, to take the imagination and throw that out in place of the 'facts.' And any sense of story, any sense of mystery, gets stifled by folks who feel that literalism is the only approach to the Scriptures. If you really look at the way Christ lived and taught — through the parables, for one example — you see how He entrusted these truths, at times actually hid them, in stories so people could discover them on their own, which is powerful."
"Look at it this way," Carr posits, "which is more popular: documentaries or fiction-based movies? Documentaries are important because you need to learn the facts about an issue, but getting involved in a story brings the emotions into play and makes things far more personal and involving for people. 'Wire' is a more personal record for us, and it is a risk because we could easily come out with 12 safe songs that say what people want to hear; but we had to make the record that was on our hearts and minds to make."
"For me," says Mac, "the challenge is: How do you be strong and straightforward in your faith and, at the same time, be accessible to people who are not believers and talk in a way they can understand? I was reading Charlie Peacock's book ["New Way to Be Human"] the other day, and I wrote this down: 'The reason that we make Christian music is because there are people who buy Christian music. If there wasn't a market for Christian music, what would we be doing?"'
Well. That rhetorical question is reminiscent of comedian Bob Nelson's classic bit about the NFL player trying to ad lib his way through a public service announcement, stating, "If it were not for football in my life, I would not be playing football today." It may be deep logic for Yogi Berra, but for the men of Third Day this afternoon it is fodder for continuing a very stimulating discussion between friends who clearly respect each other's ideas. And that just may be the glue that holds this band together when music isn't enough. Regardless, this discussion is far from finished, as Anderson jumps back in.
The Price of Relevancy
"The question for me is, 'Are we serving the church?' The best way we can serve God's people is by making sure our message is relevant to our particular culture at this time. We all want to say that we support that idea, but how well do we do it? We, in this band, are all Christians, most of our crew on the road are Christians; we're having Bible studies together and hanging out together most of the time with Christians.
"Well, we basically took a year off and spent time with our neighbors," Anderson continues, "We want to share our faith with our neighbors, of course, but we do that pretty differently one-on-one than how we would from a stage on a Christian music tour. I'm interested in the idea of sharing Christ through our music more in a manner that we might in our personal lives … now that I remember what a personal life is all about! [laughs]
"People say, 'You can't serve two masters; you have to serve the church or the world. We're attempting in this band to serve one master — and that's God — but we're not interested in making dividing lines in our audience between Christians and non-Christians. They are people coming to our shows, and every one of them has a soul. Our goal is simply to create an atmosphere where the Holy Spirit can draw people and do what the Spirit does in their hearts."
There is a pause in the room, a selah in the discussion, to use the psalmic term. Lee breathes deeply and, in his quiet way, says a mouthful.
"You know, I used to kind of roll my eyes when people started talking about the 'culture wars.' Maybe it's because I never felt like what we did was very important in the grand scheme of things. We're a band, and there are probably a lot more important things we could be sitting around thinking about than music, right? But when another culture is mad enough at our country to hijack a plane to take a bunch of Americans' lives and their own in the process, there is something about our culture that really angers them.
"I want to believe that our contribution to our culture, in what we have to say through our music and by the way we are attempting to live it out, will have a positive and redemptive effect on everyone who hears it. We have to remember that it's not just kids in church youth groups who hear this anymore. This music can be heard worldwide through the Internet now, and we feel a great responsibility as the people making this music that what we're saying in our lyrics is consistent with the gospel of Jesus Christ and not just the product of an American point of view on Christianity."
Consider at this point just how much Third Day really has accomplished and how seemingly effortlessly they have done so. Take, for example, the manner in which this band moved into the arena of modern worship. Third Day's approach to all of its music — including worship — still rocks hard enough and well enough to retain street credibility, which has eluded many of the Christian bands that have made similar forays. Anderson offers a possible explanation.
 
"Maybe one way we have been able to do that is because we don't have Christian music 'people' helping us make these records. I mean, we had Paul Ebersold [3 Doors Down, Sister Hazel] producing this time and Brendan O'Brien [Bruce Springsteen, Pearl Jam, Aerosmith], who couldn't mix a track for Christian radio if we paid him twice as much money as we did, mixing the record!"
 
"And we are the same band today as we were when we started out," adds Powell. "We want to reach believers in the church and people outside the church, and we've always felt that way. [The apostle] Paul wrote about being all things to all people, and we always have and always will try to do that.
 
"Our second record, 'Conspiracy No.5,' which was our least-selling album to date, was critically acclaimed; but it was not spoon-fed to our fans. It was deeper lyrically. 'Wire' reminds me a lot of that record in that respect, so it will be interesting to see how our fans react to it."
 
Indeed, it will be interesting to see the reactions to this new album, but there is little doubt it will be accepted well by Third Day fans. Though the lyrics of a few songs may garner the band a wider audience than ever before, the foundational message of the gospel informs the whole of "Wire" as clearly as it does the lives of the men who made its music. And if they do catch any flack from either platform about any of it, they've already communicated the best response I've ever seen in the lyric to "I Will Hold My Head High," stating, "Beat me up and drag me down/ And lock me in or keep me out/ Whatever they may throw at me/ I'll turn into a song for you."
Samaritans & Innkeepers

The spring leg of the "Third Day Live" tour is co-sponsored by World Vision, whose "Hope Child Initiative" targets the more than 14-million children orphaned or affected directly by the HIV/AIDS crisis in Africa and surrounding countries. Just prior to the kickoff of the tour, Third Day members Tai Anderson, Mark Lee and Brad Avery traveled to see some of the work the relief organization was doing there, to "put their body where their mouth is," according to Anderson.

"We've tried very hard not to ask anything of our audience we wouldn't ask of ourselves," he continues. "If we're going to talk about Habitat for Humanity, we had better be out there swinging some hammers. If we're going to tell people about the importance of sponsoring children through an organization like World Vision, we had better be sponsoring children ourselves. If we want our voice — or whatever position we have — to challenge the church, it's up to us to set an example not to retreat from our culture."

"We've been working with World Vision for about eight years but had never taken a trip to see first-hand some of the work they do," says guitarist Lee. "We felt like — going into this new tour, this new season for the band — it was really important to fine-tune the message we were presenting onstage on their behalf.

"In addition, Tai and I went to South Africa two years ago with Habitat, and, while we were down there, we were blown away by the impact the AIDS crisis has had on the whole society. Then, to see the work Bono has done with DATA [Debt, AIDS, Trade, Africa] and World Vision's own involvement with the AIDS pandemic pretty much demands a response. At least it did for me.

"Taking this trip was overwhelming, and as it was only a few weeks ago, I think we're all still processing it. The first impression was what we expected: driving into a village and having a bunch of kids come up to us and dance for us and stuff. But from there on, the realities became much more sobering.

"We visited with a group of people who ministered daily to those suffering from AIDS, then visited a house where four girls, who were left as orphans because of this disease, lived. We left there, going back to our hotel, knowing these girls didn't have power, water, any of the things we would consider elemental and necessary for life.
 
"The official statistic is that 31 percent of this country we were in (Lesotho) is infected with the HIV virus. But then when you go and visit a village of about 300 people, where they don't have a clinic — like we did — and walk by the graveyard and see 20-30 fresh graves of people who have died from pneumonia or tuberculosis, you realize those aren't even figured into that statistic. The more accurate death rate is probably closer to 50 percent at this point!
 
"We thought we would see what an impact World Vision was making there, but seeing as how this is really kind of a new field of ministry for them in this country, their work there has just begun. I found myself getting angry at how big this problem is and how little it's being covered in this country right now."
 
Like most of us would, the men of Third Day feel deeply saddened and angry at what they saw and heard in Lesotho. Their challenge, like ours, is answering the all-important "What can I do?" question, though for them it weighs heavier still, due to the platform and audience they have been entrusted with.
 
Says front man Mac Powell, "I think education is the key … first educating ourselves and learning more about the problem, so we can accurately share with our audience." 
 
"What World Vision does is amazing," says Anderson. "What I relate it to is the story of the Good Samaritan, who most people see as the hero of that parable, right? Well, the Samaritan does recognize the needs of the man left for dead, and he takes him to an inn and gives the innkeeper money to cover his expenses. But I think the real hero of that story is the innkeeper because it is he who is nursing him back to health and attending to his daily needs and rehabilitation. The fact is it takes both.
 
"I believe God has called us in America to be good Samaritans to the needy of this world. Not everyone is called to be an innkeeper, but all of us have been blessed abundantly more than we understand and can say to an 'innkeeper' organization like World Vision or Compassion International, 'You take care of them. I'll pay the bill.'
 
"People don't want to hear this, but I believe there is an underlying attitude — I don't know whether it's racism or nationalism or just elitism — that has diseased the American church. It's an attitude that really views the rest of the world as sub-human. We really think we are entitled to the standard of living we are so blessed with in this country, and we turn our backs on helping the suffering people of the world because 'I deserve at least a $50K job with health insurance, so I can make my payments on my SUV and get my high-def TV; and, by God, why isn't there high-speed internet in my community yet?'

Guitarist Avery adds,  "See, our challenge is to communicate what we've seen and what we feel about what we've seen in a way that doesn't bring people down but inspires them with hope to motivate them to do good works on behalf of God's people."

Anderson agrees. "The fact is," he confesses, "I wasn't doing anything about this a few years ago. I was ignorant of the facts. But with knowledge comes responsibility; and I believe that when our audience hears about the problem and understands that there are tangible things they can do to address it, I trust that they will respond. I refuse to believe otherwise."


For more information on World Vision's Hope Child Initiative, visit worldvision.org on the Web or write to P.O. Box 9716, Federal Way, WA 98063-9716.


© 2004 CCM Magazine.  All rights reserved.  Used with permission.  Click here to subscribe.