Third Outing Positions Laura Story as Endearing Storyteller
Lindsay Williams

Crosswalk.com Contributing Writer

2013

13 Sep

COMMENTS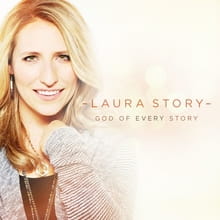 Artist: Laura Story
Album: God of Every Story
Label: Fair Trade Services
Blessings, Laura Story's second label effort, catapulted the revered songwriter and worship leader to new heights professionally, thanks to the emotional title track, which garnered Story several Dove Awards and a GRAMMY® Award. The follow-up to the landmark recording is called God of Every Story and portrays the gifted songstress as a genuine storyteller.
Since her first imprint on Christian music after penning chart-topping hit "Indescribable," made popular by Chris Tomlin, Story has been viewed as a respected worship leader, content with the behind-the-scenes vantage point pure songwriting often affords. However, while Story does indeed have a penchant for crafting congregational-friendly choruses, "Blessings" revealed her vast ability to tell stories through song.
God of Every Story builds on this premise. The title track emphasizes God's unwavering faithfulness through several real-life scenarios, including her own—that of her husband's brain tumor and the recent birth of their daughter. In a similar personal vein, debut radio single "I Can Just Be Me" prayerfully speaks to allowing God to be sovereign and sufficient in every need.
The jubilant "There Is A Kingdom" and "O Love of God" are more worshipful in nature, yet there's a fresh excitement and vulnerability to these songs previously absent, the former evoking Story's trademark writing with phrases like, "Every eye with expectation/ Every heart an invitation." Meanwhile, "Keeper of the Stars," a pop-friendly gem, finds Story singing in first person, something she continues on many of these tracks making them seem all at once more intimate and personal than previous work.
The back half of the set is slower and filled with praise-inducing ballads. Story's reverence and lyrical poetry is memorable, but it's the confessional story songs that really rise above the fray. Produced by Ed Cash (Kari Jobe, Chris Tomlin), God of Every Story provides a springboard for Story to be respected and admired for her storytelling abilities as much as her worship leading gifts. Like "Blessings," this collection pushes her into a new category of songwriters, leaving Story straddling the fence between the songwriting circles of worship artists like Kari Jobe and poetic singer-songwriters like Nichole Nordeman.
God of Every Storyis the most relatable project of Story's career. Fans will find her authenticity and humility refreshing. Instead of limiting herself only to the modern worship realm, Story would do well to continue to write from personal experience.
*This Review First Published 9/13/2013