This Beautiful Republic Sharpens Its Perceptions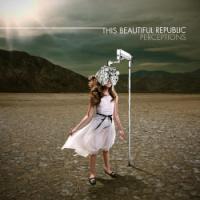 Artist: This Beautiful Republic
Title: Perceptions
Label: Forefront Records
Heading the relatively recent revival of ForeFront Records, This Beautiful Republic continues on its blistering path of modern rock reflections, but also benefits from a noticeably more mature overall approach.
Though the players were respectable the first time around, considerable time on tour appears to have sharpened their skills even further, while front man Ben Olin appears even more confident behind the microphone as he churns out a series of stadium ready choruses.
The Toledo-based troupe dives right in to its refined approach throughout the steadily building surges of "Pain," merging a slight emo undercurrent with post-punk insistency. On "Surrender Saved My Life," the group mirrors mainstream mega-sellers Taking Back Sunday's latest material, exploding with mighty riffs and massive melodies, but tackling the much meatier topic of a believer turning over their life to the Lord.
The group's primary Christian market comparisons remain Switchfoot and Sanctus Real, but tracks like the lushly stringed ballad "For the Life of Me" and the anti-loneliness battle cry "A Point Between Extremes" showcase the most epic side of This Beautiful Republic to date.
"Say Goodnight" rounds out the record, starting with acoustic guitars and pleading lyrics before beefing up the aggression factor and tipping its hat toward the band's multiple alt-rock orientations.

Watch This Beautiful Republic music videos today at Godtube.com.

© 2008 CMCentral.com. All rights reserved. Used with permission.




Visit CMCentral.com now and join the single largest online community of Christian music fans on the internet. CMCentral features daily music news, exclusive interviews, album reviews, weekly devotions and feature articles written by some of your favorite Christian artists, and much more. CMCentral is also the home of the most popular Forum for Christian music fans that you'll find anywhere on the Internet. Come see what all the buzz is about!

**This review first published on August 28, 2008