THIS WEEK'S NEWS: O.C. Supertones, Third Day & More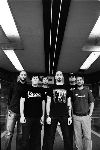 It's the most wonderful time of the year, is it not?  That post-Thanksgiving, pre-Christmas blip when food is flying, wallets are widened and hearts are softened.
A band whose collective heart should be very much softened and perhaps a bit heavy this holiday season is The O.C. Supertones who have recently announced their retirement in 2005.  The renowned outfit has been kicking it rock/ska style for 10 years now and will go out with a bang sometime in the new year.  A best-of disc ("Unite") and national tour are being planned to commemorate.
"It's both difficult and sad to say goodbye to something you have been a part of since you were 15," shares front man Matt Morginsky.  "I hope that this band leaves behind more than what numbers can indicate.  Our goal was and still is to glorify God and to edify His people." 
And the number indicate sales of one million in Supertones history, as well as two rock radio hits, 19 concert tours and other notable appearances at World Youth Day with Pope John Paul II, Billy Graham Crusades, MTV's "120 Minutes," CCN "Headline News" and the cover of national touring mag, Pollstar.
So … so long, farewell, good buddies.  And hello to relative newcomers Thousand Foot Krutch who are just getting started with their career.  The rock band is back in the studio to follow-up their Tooth & Nail album, "Pheonomenon," which sold over 100,000 units.  Arnold Lanni (Simple Plan, Our Lady Peace) will man the production helm of "The Art of Breaking," set to release March 29, 2005.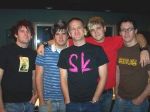 Other folks doing their studio time include Stellar Kart, the new pop/rock band on triple-label threat Word/Curb/Warner Bros.  "All Gas.  No Brake." will land in stores on February 15.  Pictured here at the Sound Kitchen in Franklin, Tenn. are (l to r) Tay Sitera, Stellar Kart; Jordan Messer, Stellar Kart; Blaine Barcus, VP of A&R for Word Records; and Adam Agee and Cody Pellerin, Stellar Kart.
Another project releasing in February is the forthcoming "Bridges" project executive produced by Marc Byrd and produced by Andrew Thompson on Waterfront Records.  And it couldn't be more timely as the old vs. new, modern vs. traditional dilemma continues for church congregations … at least in my neck of the woods the struggle is still going strong.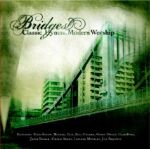 "'Bridges brings inspiring new arrangements of traditional hymns to the church in a way that will appeal to both the older members of the congregation, who long for the tradition and depth of the old hymns, and the younger members, who will respond to those lyrics via a musical style that they relate to," says Hugh Robertson, Waterfront Records founder.
Look for new spins on traditional classics on a lineup featuring Michael Tait, Todd Agnew, Paul Colman, Ginny Owens, Jason Ingram and GlassByrd and hymns including "Amazing Grace/Jesus Loves Me", "Come Thou Fount", "Be Thou My Vision", "Doxology" and more.  Also, the enhanced CD will have worship leader resources, piano/guitar charts and lyrics.
And speaking of worship, the nominees for Worship Leader magazine's 4th Annual Praise Awards were just announced.  Click here to cast your vote and see the full list of categories and nominees.  Some notable – and okay, personal favorite – nominees include:  "Create in Me" by Margaret Becker for "Best Scripture Song", "How Great Is Our God" by Chris Tomlin for "Best Praise and Worship Song" and "Throne Room" by CeCe Winans for "Best Urban or Gospel" album.  Polls opened this week and the winners will be announced in the March/April issue.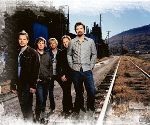 Meanwhile, outside of the Christian bubble, rockers Third Day have been making waves with their music and faith.  Enough so, that "60 Minutes" will air a feature on the growth of Christianity in popular music, featuring the Georgia rockers, next Wednesday, December 8, 2004 at 8:00 p.m. E.S.T./P.T.  News correspondent Bob Simon spent some time with Third Day earlier this fall while the band was in Manhattan for a performance at the Republican National Convention.  Other artists to be featured in the segment include rapper Kanye West and P.O.D. 
Another fellow Christian artist making "world" news is Steven Curtis Chapman who travels to the wonderful World of Disney this month (December 17-19) to narrate the 34th annual Candlelight Processional and Mass Choir Program, which is a retelling of the traditional Christmas story at Walt Disney World's Epcot Center.  Other celebs donating their spoken-word prowess on other December dates include Jim Caviezel ("The Passion of the Christ") and Gary Sinise ("CSI: NY", "Forrest Gump"). 
Well ... that wraps up the news for this week. Be sure to light a candle for me this weekend. 'Cause it's my birthday.