THIS WEEK'S NEWS: Russ Lee, David Phelps, Third Day & More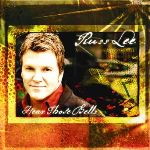 "CHRISTMAS TIME IS HERE" … remember that pitiful-sounding little ditty from "A Charlie Brown Christmas" special that they've been airing on TV since … forever?  Linus and the gimpy tree, the Christmas pageant that almost wasn't, and the story of Christ's birth. 
The song cracks me up each time I hear it; it's so sad sounding, but at the same time there's this earnest quality about it (probably the children's voices).  Anyhow, it's a given that my family will be singing it with tongue firmly planted in cheek as we trim the tree and situate the garlands here and there around the house in the coming weeks.  
I also couldn't help but hum it this very week, as I was reading the flurry (okay, maybe not a flurry … but the word does go with my Christmas/winter-y theme I've got going on here) of press releases RE upcoming Christmas albums and tours.  Most notably is singer/songwriter Russ Lee who's not only releasing a Christmas album titled "Hear Those Bells" on November 9, but he's announcing his very own and very brand-new record label, Vertical Vibe Records.

While his solo career is arguably still in its infancy (Lee left NewSong as lead vocalist around the dawn of the millennium and prior to that had been a lead vocalist with Truth), Lee is stepping up to the plate to helm his newly formed label.  "I am excited about this opportunity to build a ministry-based label from the ground floor up," he says.  "Because we are small, we can focus on excellence and meeting the needs of our artists." 
As the label's inaugural release, "Hear Those Bells," features production by Zane King and songwriting by Lee and James Isaac Elliott on original selection, "Baby Boy," as well as the title cut.  Classics including "Joy to the World", "O Holy Night", "Go Tell It on the Mountain" and others also have made the line-up.  Lee will no doubt perform from his new holiday disc when he travels to Iraq next week to minister to troops stationed with the United States Army's 101st Airborne Division from Fort Campbell, Kentucky.  He's scheduled to make stops in the cities of Balad, Mosul and Bagdad, and upon return, Lee will headline the multi-city "A Night of Christmas" Tour in November and December.
Also planning to cruise the highways and byways very soon will be David Phelps, who launches his third annual Christmas tour on December 14 with special guests Erin O'Donnell and comedian Daren Streblow.  But they'll have to move over their tour bus just a smidge, 'cause the good folks who make up the artist roster over at Rocketown Records will be road-dogging as well.

RR label mates Watermark, Ginny Owens, Shaun Groves, Alathea, George Rowe and Taylor Sorensen (as well as longtime Rocketown friend Cindy Morgan) will support the label's first Christmas disc, "Gloria," on a 13-city December tour.  Produced by Charlie Peacock and Scott Denté for Runway Networks, "Gloria" was conceived in "community" fashion as artists spent time together in writing sessions at Peacock's Art House studio and Wayne Kirkpatrick's Maple Room studio earlier this year. Listen for first single, "God Is with Us" (featuring Amy Grant) to hit radio on November 19.

Four days later … you can not only listen to Third Day's special two-disc live DVD/CD set, "Live Wire," but you can purchase it, too, as it will be available at retail.  Recorded live and earlier this year at the Palace Theater in Louisville, Kentucky, the disc gives you front-row seat advantage during Third Day's "Live Wire" tour which supports the band's latest studio album, "Wire" (Essential Records).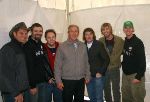 Last week, while out on the fall leg of said tour, Third Day was invited to perform before a crowd of 30,000 at a campaign rally supporting the Bush-Cheney '04 Campaign in Hershey, Pennsylvania.  It's said that "I Believe" and "I Got a Feeling" – both tracks from "Wire" – brought the crowd to its feet.  Afterward, the Georgia sons got their Kodak moment with the Prez.  Hail to the chief!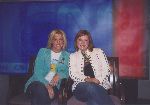 Elsewhere in political news you can use … Point of Grace members Denise Jones and Shelley Breen participated in a live interview on CNN Headline News in support of the Redeem the Vote campaign, a non-partisan organization designed to encourage young people of faith to vote.  Jones and Breen also conducted interviews and liners with a number of Christian radio stations encouraging their listeners to vote this coming Tuesday, November 2, 2004.

That's all for this week.  And since I early voted (yay for me), I will encourage you to either do the same by the evening of Friday, October 29 (check your local voting stations for times) or get to the polls bright and early on Election Day on Tuesday, November 2 to make your voice heard.  It's your right and your duty.  Now, go forth and vote!