Thousand Foot Krutch - Tooth & Nail's Next Breakout Artist?
Jay Swartzendruber

2004

5 Jan

COMMENTS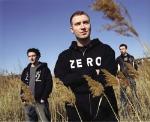 How does a band that cut its teeth performing at "corn-roast parties" and high-school proms build enough street cred to land a deal with Tooth & Nail Records and then become of one of the label's buzz artists? Just ask Trevor McNevan (vocals, guitar), Joel Bruyere (bass) and Steve Augustine (drums) of rapcore/alternative band Thousand Foot Krutch.
Formed in Toronto while the members were still in high school, the band eventually signed a recording agreement with the obscure DJD label, founded by DJ Dove (SFC, Gospel Gangstas). Thousand Foot Krutch released its 2000 debut, "Set it Off," and surprised insiders by selling over 50,000 copies. The band soon entered discussions with mainstream and Christian labels before inking a deal with Tooth & Nail.
"Tooth & Nail was the only label that was on the same page [with us]," says front man McNevin. "Creatively they let artists express themselves in ways that are real to them. One band might be worshiping God with something they do that's coming from the heart, but that might be different to someone else."
While its debut featured a pervasive hip-hop flavor, Thousand Foot Krutch went a decidedly different direction for "Phenomenon," the band's first Tooth & Nail CD. Produced by Aaron Sprinkle (MxPx, Anberlin), "Phenomenon" is more rock-driven while retaining urban sensibilities.
Stylistic changes aside, TFK is clear about where they are headed philosophically. "There are a lot of awesome Christian bands doing an amazing job who are called to minister to kids in the church," McNevan says. "But from day one I've always felt drawn to those outside of the church — I have a heart for the cry of those kids. That's really where we feel led. And I don't mean the whole mainstream thing — that pipe dream that everybody talks about. I don't mean that; I just mean those kids. We really are more in our element when  we're able to really speak, share and hang out with them."
Will Thousand Foot Krutch be Tooth & Nail's next big thing? Only time will tell. Either way, TFK's Trevor McNevan and Steve Augustine have better odds than most. The two workhorses head up another Tooth & Nail buzz band — the pop rock outfit FM Static.

© 2003 CCM Magazine.  All rights reserved.  Used with permission.  Click here to subscribe.