Timing Is Right for Judd and Maggie's "Subjects"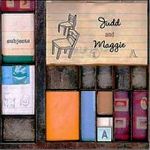 Artist:  Judd and Maggie
Title:  "Subjects"
Label:  RCA
Relationships aren't the easiest things to maintain. We all long to have friends and be accepted by others, but many times, we refuse to put in the effort necessary to foster these relationships.
The same holds true when the relationship extends beyond other people and into the area of Christianity. We'll often quote the scriptures that remind us of how God never leaves us and wants to be involved in our lives, but it's frequently without mentioning that it takes work to develop this level of intimacy. We're even less likely to address the fact that we are to submit ourselves to His will instead of our own, as loyal subjects serving their king.
Brother and sister duo, Judd and Maggie, offer an album that discusses the subject of being subjects. Aptly titled "Subjects," the album plays like an intimate conversation dealing with life, love and the difficulty of building and maintaining relationships.
The album opens with a recognition that only God can offer us the perfect relationship, leading with the song "Perfectly." The duo relies heavily on the metaphor of a relationship to offer insight to living rightly with God. "Snow Song" describes a heart that's begun to grow cold towards God, while "Used to Love" shows a desire to become more acquainted with love and the ways of God. The CD closes nicely with the summation of the topics addressed throughout. "A Subject Am I," a track reminiscent of Bob Dylan's "Gotta Serve Somebody," reminds us that in the end, we'll all find ourselves submitting to God.
Musically, Judd and Maggie fall into the soothing sounds of folk with a slight tinge of pop. The album is quite enjoyable as the duo offers a great balance of melody and harmony between the instrumentation and vocals. Songs such as "Big Lights" and "One Year Past 20" find their sound with a piano as played by Judd, while other tracks feature more acoustic guitar and percussion. Some highlights include the sweeping sounds of "Sponge," the poppier appeal of "Used to Love" and the upbeat tempo of "Closer."
In a music world that has recently embraced artists such as Sufjan Stevens and Derek Webb, Judd and Maggie seem to be emerging at the perfect time to receive the attention that they deserve. "Subjects" proves to be a worthy endeavor that should reach a wide group of listeners looking for a relaxing tone, mature musicianship, and interesting lyrics. It's a great album from beginning to end.


© 2006 CMCentral.com.  All rights reserved.  Used with permission. 

Visit CMCentral.com now and join the single largest online community of Christian music fans on the internet.  CMCentral features  daily music news, exclusive interviews, album reviews, weekly devotions and feature articles written by some of your favorite Christian artists, and much more.  CMCentral is also the home of the most popular Forum for Christian music fans that you'll find anywhere on the Internet.  Come see what all the buzz is about!