Timing Is Right for Matthew West's "Sellout"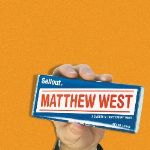 Matthew West was a chart-topper before we ever heard his voice on the radio.

Prior to performing his own songs, he was penning hits for acts like Jump5, Rachael Lampa and Salvador. But have you ever wondered what happened before all that? Well, wonder no longer! Sparrow Records is re-releasing West's first independent album, "Sellout."
Before the days of sell-out crowds and record-breaking streaks at No. 1, West was simply a preacher's son who dreamed of joining the major leagues until one fateful day when his dad gave him a guitar, opening up the young boy to the world of music. His love of performing hit hard and fast and soon after college he was playing anywhere they would take him. And this is where "Sellout" was born.
Until now, these tunes have only been heard at his live shows, but with the re-release of this old-but-new collection of 10 songs allows fans to follow West's early development in the music industry.
So if you want to hear the songs that started it all, "Sellout" is a must-have summer download. 


© 2006 SongTouch.com.  All rights reserved.  Used with permission.  Shop for gospel music and Christian church music downloads at  SongTouch.com.